San Diego is the eighth largest city in the United States, and the second largest city in California. Long called "America's Finest City," San Diego boasts Mediterranean and semi-arid climates and varied topography (deserts, mountains, canyons, and coastal areas) that make it easy to enjoy the great outdoors. There is also a wide array of museums, theaters, malls, and restaurants for those who prefer indoor recreation.
Many of the links on this page navigate you away from our website and to third party sites unrelated to the Salk Institute. We are providing the link solely as a convenience to you in the event that it may provide useful content.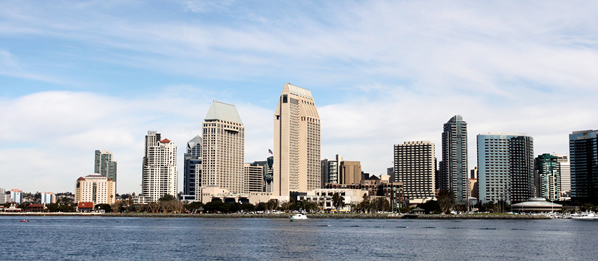 ---

Our Location
The Salk Institute is located in La Jolla, California, just minutes away from the Torrey Pines State Reserve, an internationally renowned glider port, sparkling beaches, and a world class golf course. La Jolla is 20 minutes north of Downtown San Diego, and 40 minutes north of the U.S./Mexico border.
---

New to San Diego
The resources on this third party page may be useful to individuals moving to San Diego.
---

Things to Do
In addition to San Diego's famous beaches, our city has a long list of things to do. Animal lovers may enjoy SeaWorld, The San Diego Zoo, or The San Diego Zoo Safari Park. Sports fans may like to catch a San Diego Padres baseball game at Petco Park.
San Diego is also home to the nation's largest urban cultural park, Balboa Park, which boasts 15 major museums, art studios, carousel rides, a mini railroad, the Old Globe Theatre, the Spreckels Organ Pavilion, international cottages, and much more.
Other attractions in a variety of communities around San Diego include: Old Town, Coronado Island, the Gaslamp Quarter, the Del Mar Fairgrounds and Del Mar Racetrack, the San Diego Botanic Garden, the San Diego Symphony, San Diego Music Venues Listing, and various cultural centers throughout the city.
The City of San Diego's website also has resources for leisure activities. The Leisure page and Events Calendar are regularly updated with events in the San Diego area.
---

Mexico
San Diego borders Mexico to the south. Although various parts of Mexico can be fun to visit, please be sure to check for any travel warnings before deciding on a trip to Mexico. The International Travel section of the U.S. Department of State travel website gives current travel warnings for places all around the world. Be sure to read the section on Mexico before planning a visit.
---

Getting Away
San Diego is ideally situated for day trips or longer adventures, facilitated by a centrally located airport and a train station that starts downtown and makes stops as far north as the central coast.
---

Hotels
Click here for a list of hotels near the Salk Institute. Please note that hotels marked with an asterisk * offer special Salk rates throughout most of the year. Special rates may not apply at certain peak times of the year and tend to vary from business to business. Ask for the Salk rate when making a reservation.
Hotels marked with a double asterisk ** have a special UCSD rate; this does not necessarily apply to Salk employees.
This list is not exhaustive and is provided as a courtesy only. The Salk Institute does not recommend or endorse any of the businesses listed here.
If you are arriving during the summer months, click here for information regarding temporary summer housing.