Harnessing Plants Initiative: The Salk Solution
---
There are many ways to address the issue of climate change, and here at Salk we focus on making plants much more efficient at capturing and storing carbon. This is one of the strategies that will buy our planet more time as we cope with a burgeoning human population in the face of dramatic climate change.
This biologically-based solution will reverse lost soil carbon and vitality, will strengthen plant survival, and will enhance crop yields in onerous, and rapidly changing growth zones.
As Salk® Ideal Plants™ are developed, they will reduce atmospheric CO2, and predictively restore collapsing ecosystems. This provides more time to implement quantitative, multi-pronged solutions to the world's biggest threat to human existence, global climate change.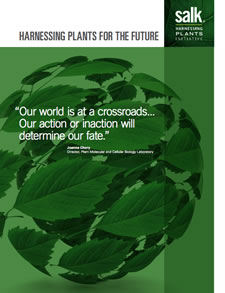 The Salk Institute Plant Biology Team:

Wolfgang Busch
Associate Professor, Plant Molecular and Cellular Biology Laboratory
Identified multiple key genes for regulating root growth
Joanne Chory
Professor and Director, Plant Molecular and Cellular Biology Laboratory
Howard Hughes Medical Institute Investigator
Howard H. and Maryam R. Newman Chair in Plant Biology
Discovered multiple pathways that regulate plant form and size in response to the environment
Joseph Ecker
Professor, Plant Molecular and Cellular Biology Laboratory
Director, Genomic Analysis Laboratory
Howard Hughes Medical Institute Investigator
Salk International Council Chair in Genetics
Led sequencing of the first plant genome and mapped the first plant epigenome
Julie Law
Assistant Professor, Plant and Cellular Biology Laboratory
Hearst Foundation Development Chair
Identified mechanisms for epigenetic regulation
Joseph Noel
Professor and Director,
Jack H. Skirball Center for Chemical Biology and Proteomics
Howard Hughes Medical Institute Investigator
Arthur and Julie Woodrow Chair
Uncovered the blueprints used by plants to produce chemical compounds
Advisory Committee Members
Gregory Arnold
Managing Partner
Auroch Advisors, LLC
Mary S. Consalvi
General Counsel
ANDE Corporation
Tom Duterme
CEO and Founder
Happy Hummingbird
Kristy Kitzmiller
Co-Founder
KMFO
David Mandel
Special Counsel
SD Law Group
Laing Rikkers
Managing Director
HealthpointCapital
Kevin Sagara
Chairman & CEO
SDG&E
Neal Schmale
Former President and COO
Sempra Energy
Edward T. Shonsey
Board of Directors
Ricetec Inc./ AG.
Michael Smith
Principal
Ponvalley
Anthony M. Stiegler, Esq.
Partner
Cooley LLP (retired)
Tony Toranto
Partner, Real Estate and Corporate Practice Groups
Sheppard Mullin
Steve Worland, Ph.D.
President and Chief Executive Officer
eFFECTOR Therapeutics
---
To learn more about Salk's Harnessing Plants Initiative, please contact: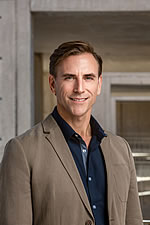 Brent Wakefield
Senior Director of External Relations
Phone: (858) 453-4100 x1556
E-mail: bwakefield@salk.edu
Your tax-deductible support helps Salk scientists better understand plants deep down—from their root systems to their epigenome.