« Back to Volunteer Opportunities Index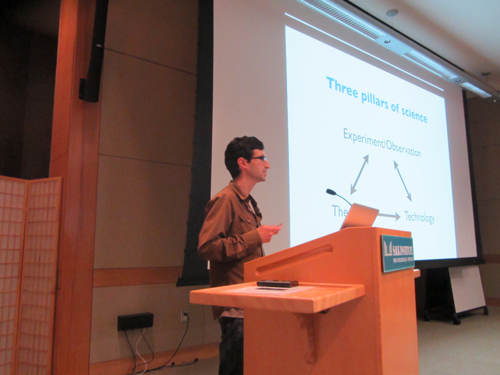 Other Opportunities
What are they?
Salk Education Outreach is often asked to assist with special school groups who are coming to the Salk campus, as well as helping students connect to scientists for school projects. We often need speakers and panelists for student and/or teacher groups, as well as people willing to take small groups to their labs for special event tours. We also help facilitate connecting students who are interested in volunteering in labs for their required school internships with Salk scientists. Most of these volunteer opportunities happen right here at Salk so no travel!
Click the links below for descriptions of specific projects or click HERE for a calendar of upcoming events
---
School-based Internships
Del Lago Academy (DLA): Campus of Applied Science is seeking partners for their student internship program. As a partner, you will have the opportunity to mentor, work with, and share personal experiences, challenges and knowledge with DLA Scholars who are in their junior year. DLA's Internship Program strives to bring relevance to daily curriculum in all content areas, develop strong work habits, foster college and career exposure and exploration, and expand scholar social networks and access to opportunities.
The internship program runs during the spring.
Anyone interested in being a mentor for this program please Education Outreach at education@salk.edu (X1954).
Click here for the Junior Year Internship flyer
Click here for the Junior Year Mentor packet
---
eMENTOR Program
Del Lago Academy (DLA): Campus of Applied Science is looking for industry professionals to share information about their careers with students via one-to-one email exchanges. For more information about the program and to sign up to be an eMENTOR please click on the links below. eMENTORS are asked to sign up by the end of September.
How do I sign up?
Click HERE to view the flyer.
Click HERE to sign up.
---
Please volunteer to impact science education!
Click HERE for the volunteer information form.