Salk promotes Xin Jin to associate professor
Innovative neuroscientist providing significant insights into neurological and psychiatric diseases
LA JOLLA—The Salk Institute has promoted Xin Jin, a member of the Institute's world-renowned neuroscience faculty, to the rank of associate professor, as his research continues to provide significant insights into diseases such as Parkinson's and Huntington's. The promotion was based on recommendations by Salk faculty and nonresident fellows, and approved by Interim President Rusty Gage and the Institute's Board of Trustees.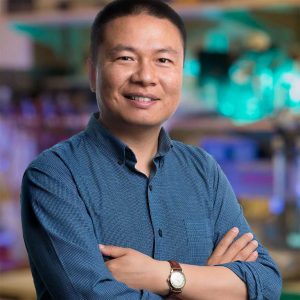 "Salk neuroscientists are making rapid progress decoding the brain, knowledge that matches the critical need to prevent and treat a wide range of neurological and psychiatric diseases," says Gage. "Xin's outstanding work in charting the fundamental principles of how the brain learns and generates actions exemplifies the type of scientific boldness that Jonas Salk sought to encourage and reward in founding the Institute."
Part of Salk's Molecular Neurobiology Laboratory, Jin uses a variety of tools to uncover the neural circuits and molecular mechanisms underlying action learning and selection. Most recently, his team discovered that the concentration of a brain chemical called dopamine governs decisions about actions so precisely that measuring the level in mice right before a decision allows the researchers to accurately predict the outcome. In addition, his lab has used cutting-edge molecular tools to dissect how the different cell types in the downstream brain regions work together with dopamine for control of actions. The work could open new avenues for treating disorders both in cases where people cannot properly initiate an action, such as Parkinson's, and in ones where they cannot stop performing certain actions, as in OCD or drug addiction.
"Xin's research is providing significant insights into the problems Parkinson's and Huntington's disease sufferers have with starting or stopping actions," says Salk's Vice President and Chief Science Officer Martin Hetzer. "We are confident this type of fundamental biological research, at which Salk scientists excel, will have implications for a number of other debilitating conditions."
Jin is the recipient of the recipient of an NIAA/NIH Benedict J. Latteri award, a Society for Neuroscience Gruber International Research award, an Ellison Medical Foundation New Scholar in Aging award and a Whitehall Foundation award.