Salk Cancer Center appoints Reuben Shaw as new director
LA JOLLA—The Salk Institute has named Professor Reuben Shaw as the new director of Salk's National Cancer Institute-designated Cancer Center. Shaw is a member of Salk's Molecular and Cell Biology Laboratory and the holder of the William R. Brody Chair.
The Salk Cancer Center was established in 1970 to uncover the fundamental aspects of cancer biology and is just one of seven NCI-designated Basic Research Cancer Centers in the country. The center's preeminent, award-winning faculty studies everything from metabolism, gene expression, metastasis and epigenetics to other aspects of molecular, cell and developmental biology that contribute to tumor development and progression.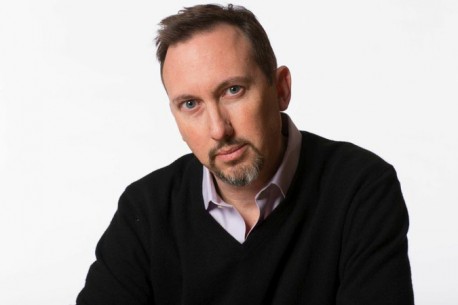 For the past eight years, the Salk Cancer Center was led by Tony Hunter, who made the seminal discovery of a new type of enzyme called tyrosine kinases, which are altered in many cancers and targeted by a number of cancer drugs. Hunter, who is also an American Cancer Society Professor and holder of the Renato Dulbecco Chair, will continue his cancer research as a member of the center and serve as its deputy director.
"Salk has been fortunate to have such excellent leadership since the cancer center's inception," says Elizabeth Blackburn, president of the Salk Institute. "We continue that tradition with the appointment of Reuben Shaw, who has already made important advances in the field of cancer and metabolism."
Shaw's research focuses on cancer metabolism: how metabolic pathways are altered in cancer and play a role in the origins and progression of the disease. While investigating one of the most commonly mutated genes in lung cancer, Shaw discovered an energy-sensing pathway that shuts down cell growth and reprograms metabolism when nutrients are scarce. This energy-sensing pathway had been previously studied as the target of the most widely prescribed type 2 diabetes medications worldwide (metformin), suggesting a very unexpected and very direct link between metabolic pathways and cancer.
His lab went on to molecularly decode a number of new components of this metabolic pathway, which connects nutrition and exercise to suppression in both cancer and diabetes. From this work, the lab's studies have led to the discovery of new therapies for both cancer and type 2 diabetes. Shaw has recently published work showing how to attack cancer's cellular energy source and how a common, deadly lung cancer spreads.
"Salk's Cancer Center has enabled important advances in cancer research, from decoding fundamental cell processes that go awry in cancer all the way through developing promising treatments, many of which have entered into clinical trials in the past few years," says Shaw. "Through the center, we will leverage the Institute's close-knit interdisciplinary approach to push the boundaries of cancer research and find powerful new therapies."