Suggested Ages: 16 and older
12:45 p.m.
Price: FREE – Registration is NOT required. Seating is first-come, first-served.
Healthy Life Around The Clock:
One Click at a Time
Satchidananda Panda, PhD
Associate Professor
Regulatory Biology Laboratory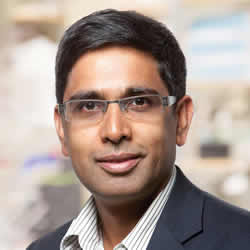 Like most people, you probably wake up, get hungry for meals and doze off in bed at about the same time every day. If you've ever experienced jet lag or pulled an allnighter, you know that this schedule can easily be thrown off kilter. Dr. Panda explores the genes, molecules and cells that keep the whole body on the same circadian clock.