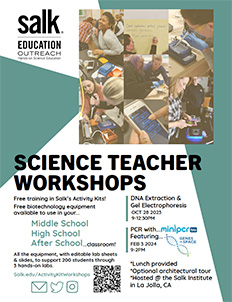 Professional Development Workshops for Middle School, High School, After-school Science Teachers
Saturday, October 28, 2023 – DNA Extraction & Gel Electrophoresis
Saturday, February 03, 2024 – PCR & Genes in Space
---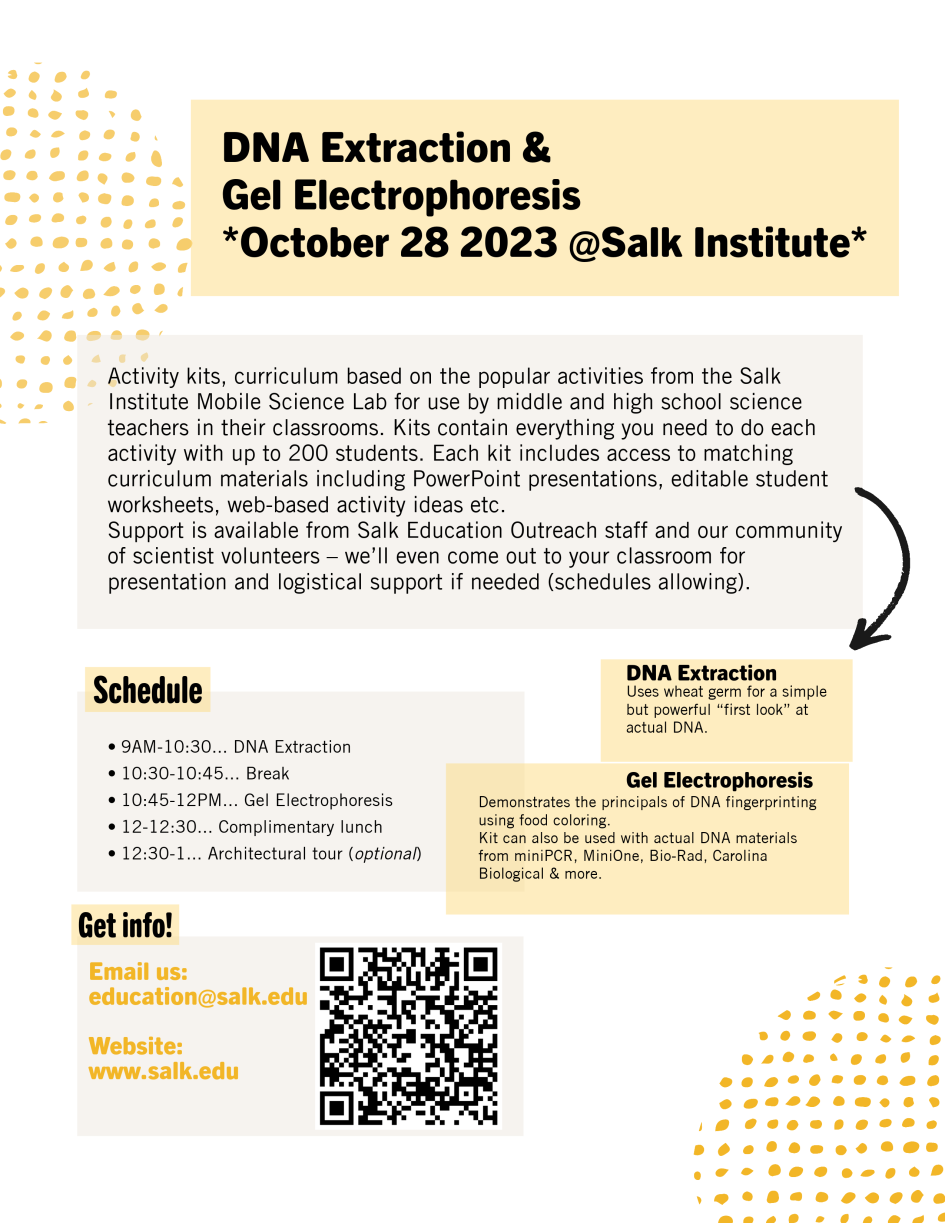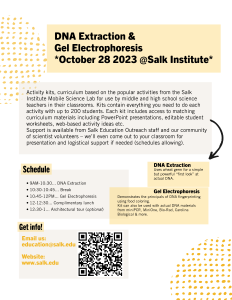 DNA Extraction & Gel Electrophoresis – Saturday, September 17
Presenting curriculum kits based on the popular activities from the Salk Institute Mobile Science Lab for use by middle school, high school, and afterschool science teachers in their classrooms. Teachers who participate in the required workshop will be able to check out these kits to use in your own classrooms on your own schedule! There are two locations to serve you: kits are housed and maintained at the Salk Institute & Mira Costa Community College – Oceanside. Once you have attended a workshop you would be able to check out a kit from either of these locations!
Kits contain everything you need to do each activity with up to 200 students. Each kit includes access to matching curriculum materials including PowerPoint presentations & student worksheets as editable electronic files so you can modify as needed for your classes.
Support is available from Salk Education Outreach staff and our community of scientist volunteers – we'll even come out to your classroom for presentation and logistical support if needed (schedules allowing).
Kit 1 – DNA Extraction: Uses wheat germ for a simple but powerful "first look" at actual DNA
Kit 2 – Gel Electrophoresis: Demonstrates the principals of DNA fingerprinting using food coloring. Equipment can also be used with actual DNA using materials from MiniOne, miniPCR bio, Carolina Biological Supply, etc
Register early – spaces are very limited!
Date: Saturday, October 28th, 2023
Agenda: 9AM-1PM (optional architectural tour after lunch, 12:30PM-1PM) – Click on flyer for more details.
Location: Salk Institute, La Jolla, CA
---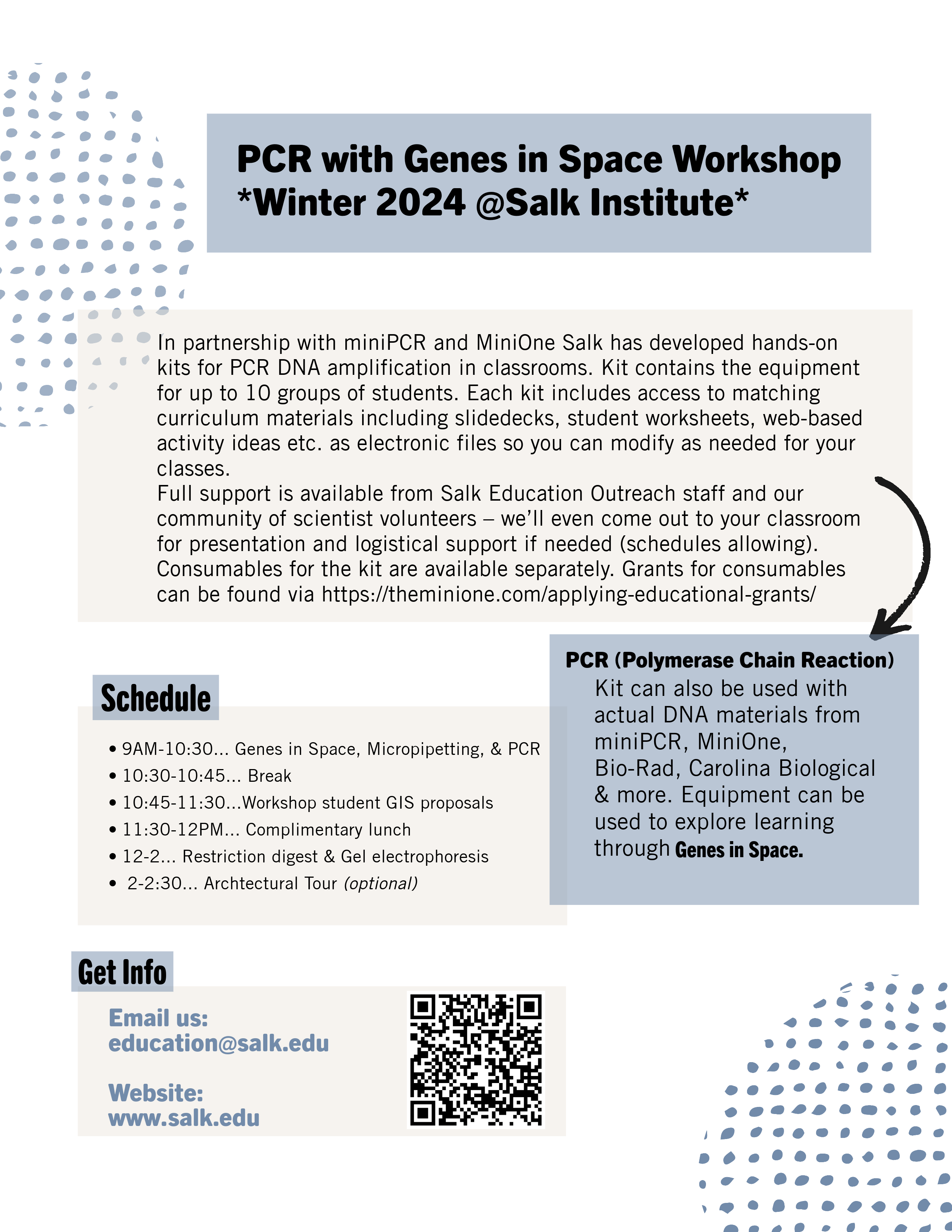 PCR (Polymerase Chain Reaction) – February 3, 2024
For decades, the tools of biotechnology and DNA analysis have been difficult to implement in classrooms. The miniPCR bio DNA Discover System is an innovative biotechnology teaching toolkit that closes this gap. In this hands-on workshop we will develop skills to bring the cutting edge of biology and space exploration into your classroom.
miniPCR bio and partners have created Genes in Space, a free science competition where teachers and middle school & high school students can design DNA research proposals for space. Winners have their experiments launched to the International Space Station and become involved in real-world space biology research with NASA. Join us and learn how to participate in Genes in Space, immerse yourself in real-world uses of biotechnology in agriculture, forensics, and medical sciences, and develop skills to implement hands-on biotechnology with your students. We'll also show you how to check out equipment for running PCR and gel electrophoresis from Salk Institute's Education Outreach activity kit program.
Kit 3 – PCR: Kit can also be used with actual DNA materials from miniPCR, MiniOne, Bio-Rad, Carolina Biological & more. Equipment can be used to explore learning through Genes in Space.
Register early!
Date: February 3, 2024
Agenda: 9AM-2PM – Click on flyer for more details.
Location: Salk Institute, La Jolla, CA