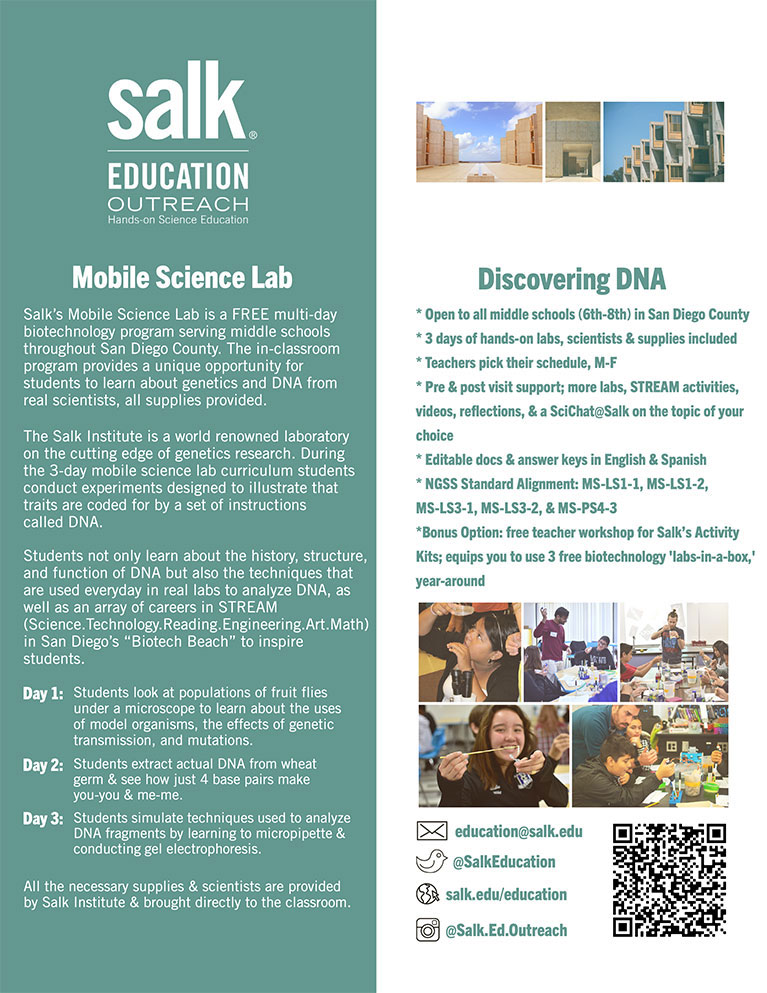 The Salk Mobile Science Lab is a free three-day biotechnology program serving middle schools throughout San Diego County. This program provides a unique opportunity for students to learn about genetics and DNA from real Salk Institute scientists. The Salk Institute is a world-renowned laboratory on the cutting edge of genetics research. During the three-day Salk Mobile Science Lab curriculum students conduct experiments designed to illustrate that traits are coded for by a set of instructions called DNA. Students not only learn about the structure and function of DNA but also the techniques that are used every day in real labs to analyze DNA. On the first day, students look at populations of fruit flies under a microscope to learn about the uses of model organisms, the effects of genetic transmission and mutations. On the second day, they extract actual DNA from wheat germ. Finally, on the third day, students simulate techniques used to analyze DNA fragments by performing gel electrophoresis. All the necessary equipment is brought directly to the classroom where up to 160 students practice hands-on, interactive science for three days.
The program's success relies on volunteers from Salk and the surrounding scientific community, primarily postdoctoral fellows and graduate students. These volunteers help distinguish the Salk Mobile Science Lab from other educational outreach programs due to the special opportunity students have to be exposed not only to content and biotechnology techniques, but to research scientists as well. Each volunteer works for one to three days with a small group of 6-8 students, which gives the students the unique experience of working closely with a researcher. Our scientists are passionate about their field of study and enjoy sharing it with young people, and this enthusiasm is often a key factor in changing students' perceptions about science.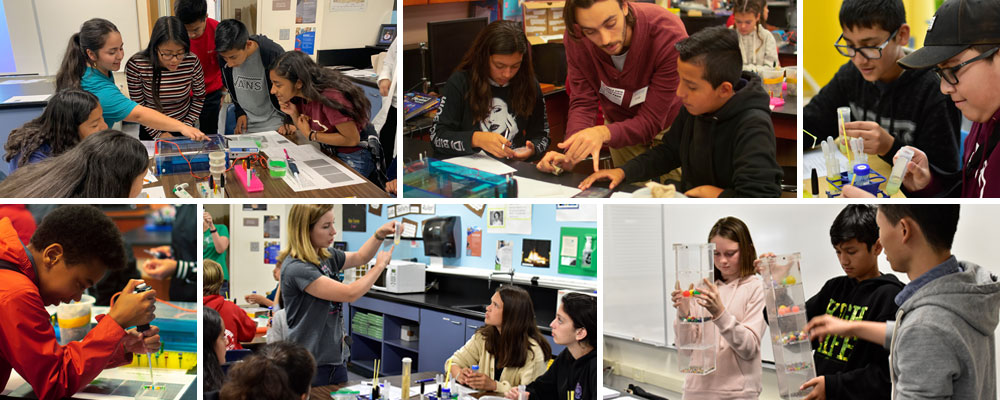 Salk Mobile Science Lab requirements:
There must be a minimum of 90 students and a maximum of 160 students in the morning classes, hours of 7:00 a.m.–1:00 p.m. The same students must attend all three days. You can combine students from multiple classes but we must work out of one classroom or parish as we have too much equipment to move around.
We can accommodate up to 4 class sessions (maximum 40 students each) during the morning. Class periods should be minimum of 45 minutes long. (~55 minute periods work best) Please note that we cannot accommodate block schedules at this time.
Short nutrition breaks during the morning classes are acceptable but the Salk Mobile Science Lab should be meeting with students during all class periods during the visit (no prep or lunch periods).
The last class must end no later than 1:00 p.m.
The classroom we work out of should have several power outlets and access to water.
Teachers are expected to be present at all times of our visit and to maintain classroom discipline.
Teachers are expected to coordinate with their school's master calendar to avoid drills, assemblies, and excessive student absences due to other activities.
Classroom access must be available 1 hr before the first class.
For information on how to apply for a spot to have the Salk Mobile Science Lab come to your classroom, please email education@salk.edu
---
Salk Mobile Science Lab donors
Thank you to the following donors whose contributions have allowed the Mobile Science Lab to serve 2,500+ students and 60+ teachers across San Diego County in the 2018-2019 school year through school visits, classroom activity kits and teacher trainings.
The Samuel I. & John Henry Fox Foundation
Samuel H. French, III and Katherine Weaver French Fund
Genentech Inc.
William H. Hannon Foundation
Johnston-Fix Foundation
La Jolla Golden Triangle Rotary Club
Las Patronas
Nordson Corporation Foundation
Arthur P. and Jeanette Gladys Pratt Memorial Fund
Price Philanthropies Foundation
San Diego Gas & Electric Co.