Two Tang Prize Foundation Postdoctoral Fellowships awarded
The Tang Prize for Biopharmaceutical Science is awarded every two years by the Tang Prize Foundation in recognition of important discoveries that have led to therapeutic advances. The Tang Prize Foundation was established in 2012 by Samuel Yin, a Taiwanese businessman and philanthropist with a strong interest in education. The mission of the Foundation, which is located in Taipei, is to recognize individuals whose work has been beneficial to the world and humankind, in four areas: Sustainable Development, Biopharmaceutical Science, Sinology and Rule of Law. The four Tang Prizes are awarded biennially, and the Tang Prize for Biopharmaceutical Science was first awarded in 2014 to James Allison and Tasuku Honjo for their pioneering work that led to the development of monoclonal antibodies that activate the immune system to attack tumor cells, now known as checkpoint therapy, and the 2016 Prize was awarded to Jennifer Doudna, Emmanuelle Charpentier and Feng Zhang for their development of CRISPR technology for genomic manipulation. In 2018, the Prize went to Brian Druker (Oregon Health Science University), Tony Hunter (Salk Institute) and John Mendelsohn (MD Anderson Cancer Center) for their discovery of the role of tyrosine phosphorylation in cancer, and the development of pharmaceutical approaches to targeting tyrosine kinases as a new cancer treatment modality – Brian Druker developed imatinib/Gleevec for treatment of chronic myelogenous leukemia, and John Mendelsohn developed cetuximab/Erbitux for treatment of colon cancer.
The Tang Prize for Biopharmaceutical Science is $1.3 million, divided equally among the winners. In addition to the prize, each awardee receives a grant of $110,000 for scientific purposes. Hunter chose to use his $110,000 grant to set up a Salk Institute Tang Prize Foundation Fellowship, which provides a stipend and benefits to a postdoctoral fellow to carry out basic research in the area of signal transduction and cancer at the Salk Institute. The one-year Tang Prize Foundation Fellowship is awarded through an internal competition overseen by the Salk Institute Fellowship Committee to a postdoctoral fellow, in their first or second year, who is conducting a research project with the goal of understanding the molecular basis of cancer. Based on their fellowship research at the Salk Institute, the fellow will be expected to publish the results of their studies in a leading scientific journal. It is anticipated that the work done during their fellowship will enable the fellow to seek a position in academia or the pharmaceutical industry to carry out cancer research as a career.
Hunter said: "I believe that supporting the next generation of cancer research scientists is a key to sustaining the amazing progress in understanding and treating cancer that has been achieved over the past 50 years, since "War on Cancer" was declared in 1971."
For the competition, applicants are asked to submit a two-page research proposal together with three letters of recommendation and their CV to be evaluated by the Committee. All applications have been of high quality, making picking each winner extremely challenging. In the end, Annnelise Snyder, a postdoctoral fellow in Professor Susan Kaech's group, was selected as the 2020 Salk Institute Tang Prize Foundation Fellow, to support her work on the role of prostaglandins in the tumor microenvironment in pancreatic cancer; and Helen McRae, a postdoctoral fellow in Professor Diana Hargreaves's lab, was selected as the 2021 Salk Institute Tang Price Foundation Fellow, to support her work of identifying novel ways to convert tumor-promoting macrophages into tumor-fighting macrophages.
Overview: Increasingly cancer is seen as a disease of dysregulated signal transduction. The discovery in the late 1970s that certain viral oncoproteins are constitutively activated forms of protein kinases led to an intense interest in the role of protein phosphorylation in cancer, and there is now evidence that nearly half of the 535 protein kinases in the human kinome can play a role in human cancer. Several of the first generation of rationally targeted small-molecule drugs approved for cancer therapy, such as Gleevec, are directed against oncogenic protein kinases, with over 60 now in use in the clinic.
A major focus of research at the Salk Institute is directed towards cancer biology. The Salk Institute Cancer Center, with 30 members, is an NCI-designated Cancer Center, and receives a support grant from the National Cancer Institute. Several faculty members in the Salk Institute Cancer Center are working in the area of signal transduction and cancer: Jesse Dixon, Dannielle Engle, Ronald Evans, Tony Hunter, Katherine Jones, Susan Kaech, Jan Karlseder, Graham McVicker, Marc Montminy, Clodagh O'Shea, Gerald Shadel, Reuben Shaw, Edward Stites, and Geoffrey Wahl. Research in the field of signal transduction and cancer at the Salk Institute is aimed at uncovering the role that altered signaling processes play in cancer, through the use of both model systems and human cell lines, with a major emphasis on the role of altered protein phosphorylation and other post-translational modifications in cancer cell phenotypes.
2021 Tang Prize Foundation
Fellowship Recipient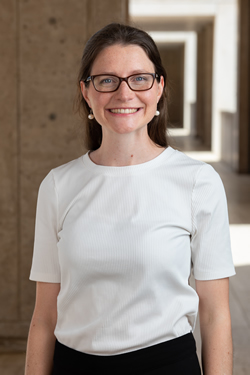 Helen McRae is a postdoctoral fellow working in the laboratory of Diana Hargreaves. She received her B.Sc (Hons) majoring in genetics from the University of Melbourne in Australia and completed her PhD through the Walter and Eliza Hall Institute of Medical Research in Australia. Under the supervision of Anne Voss, PhD, and Tim Thomas, PhD, McRae focused on understanding the role of chromatin-associated proteins in blood development and leukemia for her graduate studies.
McRae joined the Salk Institute in September, 2019, and is currently working toward understanding the epigenetic control of tumor-associated macrophages. Macrophages are immune cells that normally help the body fight infection, however, in tumors macrophages support the growth of cancer cells by promoting blood vessel development and suppressing other cancer-fighting immune cells. McRae's project aims to identify novel ways to convert tumor-promoting macrophages into tumor-fighting macrophages. Specifically, she is examining the effect of disrupting subunits of the BAF and PBAF nucleosome remodelling complexes. McRae's work will provide insights into the control of macrophage gene expression and how macrophages respond to signals from the tumor microenvironment.
---
2020 Tang Prize Foundation
Fellowship Recipient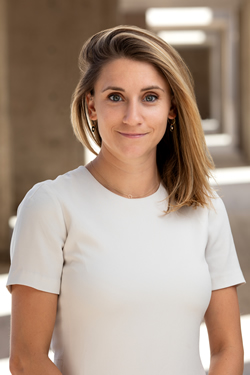 Annelise Snyder is a postdoctoral fellow training under Professor Susan Kaech in Salk's NOMIS Center for Immunobiology & Microbial Pathogenesis. She graduated with bachelor's degrees in biology and chemistry from Williams College, and received her PhD in immunology from the University of Washington (UW) in 2019. Her doctoral research with Andrew Oberst at UW focused on elucidating how the activation of distinct cell-death programs in the tumor microenvironment differentially instructs tumor-specific immunity. As a postdoc in the Kaech lab, Snyder is examining the mechanisms by which a class of tumor-derived metabolites called prostaglandins mediate paracrine signaling on neighboring immune cells in the pancreatic tumor microenvironment, including cytotoxic T lymphocytes (CTLs) that can kill tumor cells and are critical for tumor immunity. By determining the effects of prostaglandin-driven signal transduction on CTL activation and function, her project will provide novel insights into how the metabolic reprogramming of tumor cells subsequently influences the ability of CTLs to mount effective anti-tumor immune responses.