San Diego Nathan Shock Center
---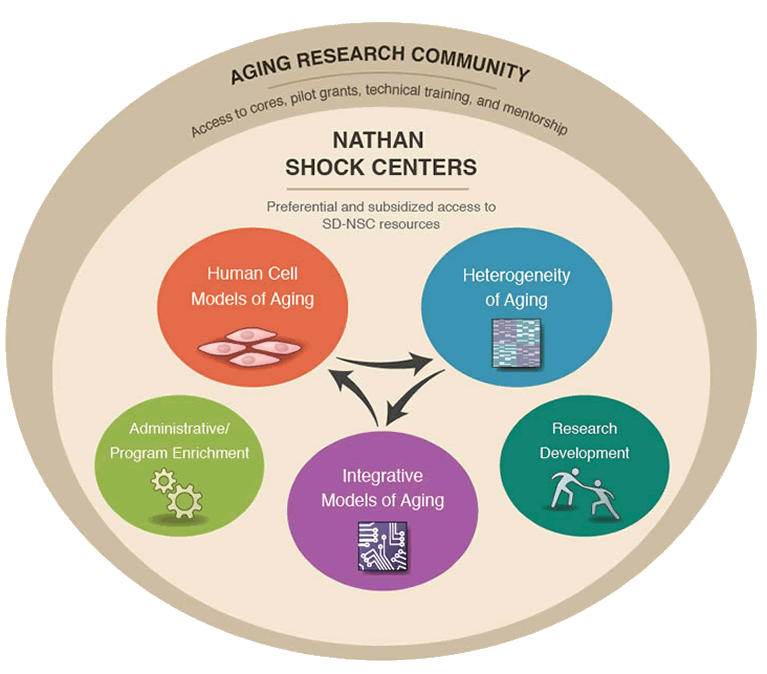 Now accepting
Pilot Grant applicationsAt the San Diego Nathan Shock Center of Excellence in the Basic Biology of Aging, our philosophy is that aging is not just about time (or chronological age), but also the different rates that people age that determine their "biological" age, which is a better indication of an individual's susceptibility to age-related declines and diseases. Furthermore, this heterogeneity of aging observed at the organismal level is influenced by inherited and acquired genetic factors and environmental influences (e.g., pathogens, toxins and lifestyle) that are manifested differentially in the cells and tissues in the body. Thus, the ability to understand how individuals age and to eventually use this information for personalized aging interventions, new infrastructure, tools and approaches are needed to interrogate the heterogeneity of aging at the molecular, cellular and tissue level.
The San Diego Nathan Shock Center (SD-NSC) was established in the fall of 2020 with the overall goal of understanding the heterogeneity of aging in order to allow development of personalized interventions to increase the number of years of healthy life (health span). To this end, the center provides three novel scientific Research Resource Cores to develop new human cell models of aging and enable the integrated analysis of molecular, cellular and tissue heterogeneity. The SD-NSC also supports and advocates basic biology of aging research in general through development, training and mentoring activities of a Research Development Core and robust outreach efforts. All of these activities are accomplished via a consortium of three premier research institutions on the La Jolla Research Mesa: the Salk Institute for Biological Studies, the Sanford Burnham Prebys Medical Discovery Institute, and the University of California San Diego.
This Center is supported by the National Institute of Aging of the National Institutes of Health Award Number P30AG068635. The content is solely the responsibility of the authors and does not necessarily represent the official views of the National Institutes of Health.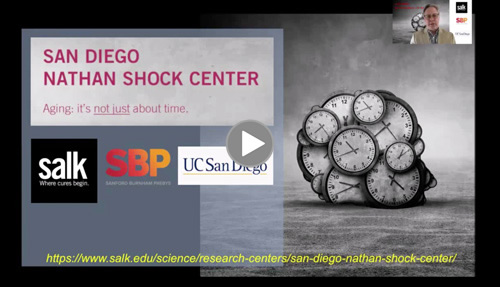 Click here for San Diego Nathan Shock Center introduction video