The Salk Institute's Salk Fellows Program brings scientists from broad disciplines to the Institute to trigger innovation and perpetuate the collaborative spirit of the Salk. Most fellows will come directly from a PhD or MD program and have expertise in a wide range of innovative technologies. Their work will have a combination of novelty, originality and risk, factors that often lower the chances of obtaining support through traditional channels.
For more information, click here: https://www.salk.edu/about/careers/academic-training/
---
Salk Fellows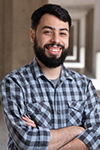 Talmo Pereira comes from Princeton University, where he developed computational methods for quantifying animal behavior through motion tracking technology that leverages artificial intelligence (AI).
Pereira is interested in building and using computational tools that leverage AI to solve biological problems that would not be tractable otherwise. At Salk, he plans to develop new computational methods to quantify and model biological dynamics across a diverse set of application areas, including social behavior, motor control, plant morphology, and single cell states throughout development and disease. Talmo Lab »
---
Alumni of the Salk Fellows Program
Dmitry Lyumkis
Lyumkis is currently an Assistant Professor at the Salk Institute. Lyumkis Lab »
Patrick Hsu
Hsu is currently an Assistant Professor at Berkeley Bioengineering. Hsu Lab »
Jesse Dixon
Dixon is currently an Assistant Professor at the Salk Institute. Dixon Lab »