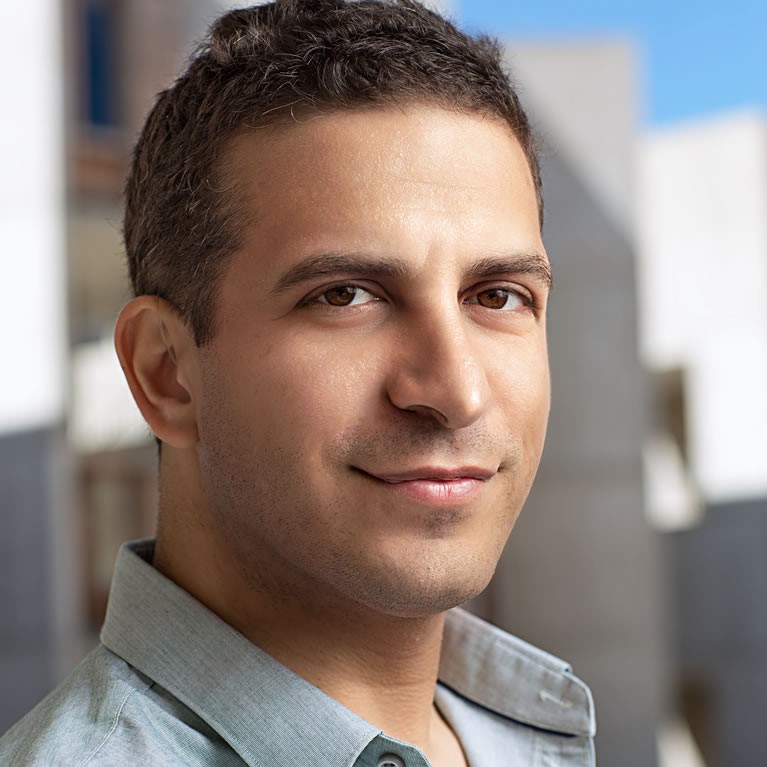 Uri Manor
Biophotonics Core Director
As Director of the Advanced Biophotonics Core Facility at the Salk Institute, Dr. Manor's primary focus is the integration and application of optical and charged particle detection technologies to study problems of critical biological significance. He is a cellular and molecular biophysicist by doctoral training. During his Ph.D. and postdoctoral training he used advanced light and electron microscopy as computational methods to determine how the cellular cytoskeleton regulates organelle size, shape, and dynamics. His graduate work with Dr. Bechara Kachar (NIH), and his postdoctoral training with Dr. Jennifer Lippincott-Schwartz (NIH and Janelia Farms) provided Dr. Manor with a broad range of training in addressing key biological questions using advanced imaging approaches, such as superresolution and live cell imaging, automated analysis and segmentation of microscopy data, and computational modeling of biophysical and biochemical dynamics in the cell. By the time Dr. Manor completed his postdoctoral training, he had published 17 peer-reviewed publications, all of which relied on Dr. Manor's imaging or image analysis skills. Dr. Manor's main biological interests are actin-dependent organelle dynamics, inner ear hair cell stereocilia, and neuronal synapse structure and function.
Leonardo Andrade, PhD
Lead Electron Microscopy Scientist
Leonardo Andrade received his PhD in Morphological Sciences at the Federal University of Rio de Janeiro in the lab of Drs. Marcos Farina and Gilberto Amado-Filho. While a professor at the Federal University of Rio de Janeiro, Leo took a 4-year sabbatical as a visiting professor in the Kachar Lab at the NIH, learning cutting edge electron microscopy from one of the leaders in the field. Leo has extended experience with multiple advanced electron microscope techniques including cryofixation (slam freezing, plunge freezing, high pressure freezing), freeze substitution, cryo-ultramicrotomy, freeze-fracture, deep-etching, immunoTEM, immunoSEM, EM-tomography, EDS, EELS, and ESI. His main biological interests are age-related hearing loss, biomineralization, magnetoreception, and the actin cytoskeleton.
Sammy Weiser Novak, MS
Electron Microscopy Specialist
After completing his B.S. in Biomedical Toxicology at the University of Guelph in Ontario, Canada, Sammy Weiser Novak moved to the University of Victoria to perform his M.S. in the laboratory of Dr. Patrick Nahirney, the author of Netter's Histology. There Sammy used electron microscopy and computational image analysis to study the ultrastructure and morphology of hippocampal synapses in a mouse model of fragile X syndrome. Afterwards, Sammy worked in Dr. Joel Kubby's lab at UC-Santa Cruz developing a 2-photon microscope with adaptive optics, gaining valuable hands-on experience with custom hardware and advanced light microscope systems. He then joined the laboratory of Dr. Marie-Eve Trembley to establish 3D electron microscopy using a new FIB-SEM system recently acquired for her lab. Sammy's current research interests include synapse structure and function, 3D electron microscopy techniques including correlative and cryo-electron microscopy, and machine-learning assisted image processing, analysis, and segmentation.
Tong Zhang
Light Microscopy Specialist
As a Light Microscopy Specialist in the Advanced Biophotonics Core Facility at the Salk Institute, Dr. Zhang's primary responsibility is the training of new users in cutting-edge microscopy techniques and providing assistance with research design. Dr. Zhang is a cell biologist by doctoral training. In his Ph.D. training at McGill University, he studied the role of growth-arrest-specific 2 in regulating the cell cycle via the cytoskeleton. After finishing his Ph.D., he worked as the Imaging Specialist at the University of Ottawa & Ottawa Hospital Research Institute. There he assisted and trained over 500 users of the Cell Biology & Image Acquisition Core Facility.
Dr. Zhang has won several international imaging competition awards, including the Nikon Small World Photomicrography Competition, where his image received media attention including at the Discovery Channel.
Charles Peto
Electron Microscopy Specialist
Mr. Peto has over 40 years of experience, including light microscopy, transmission electron microscopy, scanning electron microscopy, energy dispersive spectroscopy, pre- and post-embedding immuno-EM, serial sectioning, high-pressure freezing, freeze substitution, stereology, and 3D reconstruction. He investigated a variety of cell biology questions in cochlear ultrastructure, muscle, and bone biology. He joined the Salk in 1989 to work for Paul Sawchenko in the Laboratory of Neuronal Structure and Function, performing immuno-EM localization of low abundance peptides to study neuroendocrinology and stress pathways in the brain. Previously he worked at the University of Massachusetts Medical School Anatomy Department, and at the Massachusetts General Hospital Cardiac Pathology Core.
Linjing Fang, M.S.E.
Image Analysis Specialist
Linjing is the Image Analysis Specialist in the Waitt Advanced Biophotonics Core at the Salk Institute. During her masters at Cornell University, Linjing was interested in understanding why brain blood flow is decreased in Alzheimer's patients by analyzing deep brain capillaries imaged via 3D multi-photon microscopy. To speed up the pipeline for better interpretation of the vascular topology, she systematically tested several state-of-the-art algorithms for vessel segmentation, and determined that machine-learning based methods were superior to all other automated methods, greatly increasing the efficiency of the otherwise laborious task of manually segmenting images. In her current role as Image Analysis Specialist, Linjing works closely with researchers to help with quantitative image analysis, covering a wide variety of biological samples and image types including fluorescence widefield, Airyscan, confocal, STORM/PALM, 2-photon, transmission, scanning, and serial blockface scanning electron microscope images. She also develops custom algorithms for collaborators, and provides training to all users on image analysis software such as Imaris, Fiji, Arivis, and Aivia. For her independent project, she is developing 3D GPU-based high-resolution image restoration software that employs cutting-edge denoising and deconvolution algorithms for fluorescence and electron microscope images with extremely low signal-to-noise ratios. She is also working on developing a standardized deep-learning based image segmentation pipeline that can be applied to a large variety of datasets.