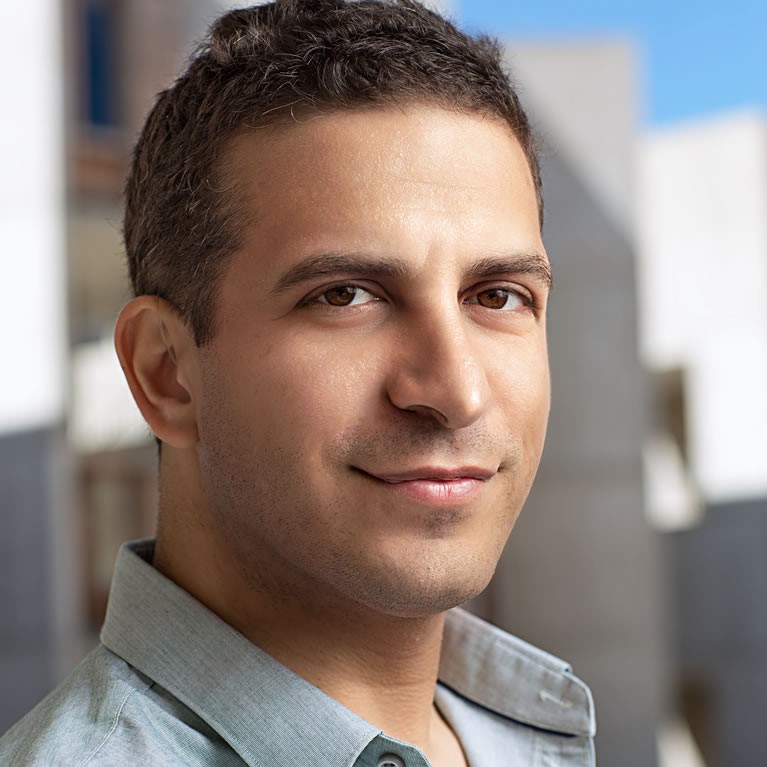 Uri Manor
Biophotonics Core Director
As Director of the Advanced Biophotonics Core Facility at the Salk Institute, Dr. Manor's primary focus is the integration and application of optical and charged particle detection technologies to study problems of critical biological significance. He is a cellular and molecular biophysicist by doctoral training. During his Ph.D. and postdoctoral training he used advanced light and electron microscopy as computational methods to determine how the cellular cytoskeleton regulates organelle size, shape, and dynamics. His graduate work with Dr. Bechara Kachar (NIH), and his postdoctoral training with Dr. Jennifer Lippincott-Schwartz (NIH and Janelia Farms) provided Dr. Manor with a broad range of training in addressing key biological questions using advanced imaging approaches, such as superresolution and live cell imaging, automated analysis and segmentation of microscopy data, and computational modeling of biophysical and biochemical dynamics in the cell. By the time Dr. Manor completed his postdoctoral training, he had published 17 peer-reviewed publications, all of which relied on Dr. Manor's imaging or image analysis skills. Dr. Manor's main biological interests are actin-dependent organelle dynamics, inner ear hair cell stereocilia, and neuronal synapse structure and function.
Tong Zhang
Light Microscopy Specialist
As a Light Microscopy Specialist in the Advanced Biophotonics Core Facility at the Salk Institute, Dr. Zhang's primary responsibility is the training of new users in cutting-edge microscopy techniques and providing assistance with research design. Dr. Zhang is a cell biologist by doctoral training. In his Ph.D. training at McGill University, he studied the role of growth-arrest-specific 2 in regulating the cell cycle via the cytoskeleton. After finishing his Ph.D., he worked as the Imaging Specialist at the University of Ottawa & Ottawa Hospital Research Institute. There he assisted and trained over 500 users of the Cell Biology & Image Acquisition Core Facility.
Dr. Zhang has won several international imaging competition awards, including the Nikon Small World Photomicrography Competition, where his image received media attention including at the Discovery Channel.
Charles Peto
Electron Microscopy Specialist
Mr. Peto has over 40 years of experience, including light microscopy, transmission electron microscopy, scanning electron microscopy, energy dispersive spectroscopy, pre- and post-embedding immuno-EM, serial sectioning, high-pressure freezing, freeze substitution, stereology, and 3D reconstruction. He investigated a variety of cell biology questions in cochlear ultrastructure, muscle, and bone biology. He joined the Salk in 1989 to work for Paul Sawchenko in the Laboratory of Neuronal Structure and Function, performing immuno-EM localization of low abundance peptides to study neuroendocrinology and stress pathways in the brain. Previously he worked at the University of Massachusetts Medical School Anatomy Department, and at the Massachusetts General Hospital Cardiac Pathology Core.
Thom Puifai Santisakultarm
Image Analysis Scientist
As the Image Analysis Scientist in the Advanced Biophotonics Core Facility at the Salk Institute, Dr. Puifai Santisakultarm's chief responsibility is to consult with researchers to suggest effective methods for quantitative analysis of their images. Dr. Santisakultarm is a biomedical engineer by training. She received her Ph.D. from Cornell University where her thesis focused on the optical imaging of cerebral microcirculation. Her postdoctoral work at the NIH focused on engineering an approach to visualize and quantify neural firings in live marmoset monkeys using genetically encoded calcium indicator. Dr. Santisakultarm has received several awards including the NINDS Competitive Postdoctoral Fellowship (NRSA32), totaling nearly $350,000.
Dr. Santisakultarm works with a wide variety of biological samples and image types including wide field, confocal, multi-photon, and electron micrographs. She also develops custom algorithm solutions for collaborating Salk scientists and educates them on the selection and use of proper statistical analyses for their datasets.