Salk promotes Dmitry Lyumkis to assistant professor
Dynamic scientist advancing vision for collaborative, cutting-edge microscopy
LA JOLLA—The Salk Institute has promoted structural biologist Dmitry Lyumkis to the rank of assistant professor for his significant early contributions to the up-and-coming field of electron microscopy known as cryo-EM. The promotion was based on recommendations by Salk faculty and nonresident fellows, and approved by Interim President Rusty Gage and the Institute's Board of Trustees.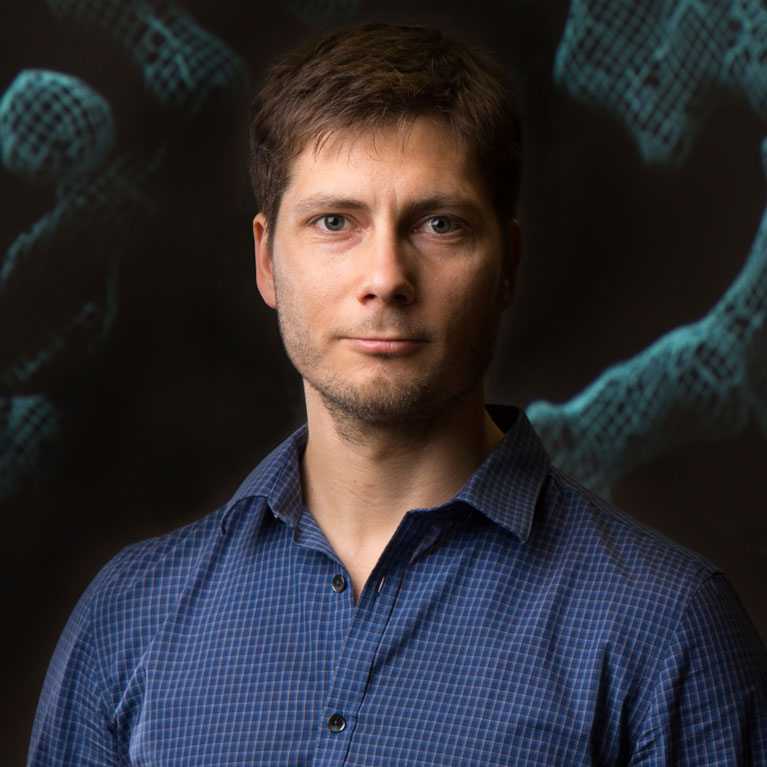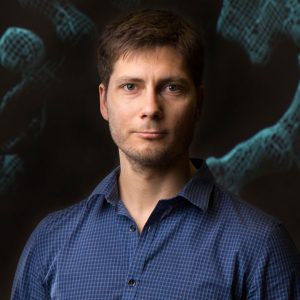 "Dmitry's commitment to innovative collaborations, which are key to Salk's long history of groundbreaking discoveries, has been evident from the moment he arrived as a Helmsley-Salk Fellow," says Gage. "Since then, he has continued to enhance his reputation as a trailblazer in next-generation microscopy as he has uncovered new insights into the proteins involved in cancer, HIV and other diseases."
Lyumkis first came to the Institute in 2014 as the inaugural Salk Fellow, part of a program designed to bring scientists from broad disciplines to the Institute to trigger innovation and perpetuate the collaborative spirit of the Salk. Fellows come directly from a PhD or MD program and have expertise in a wide range of innovative technologies. Their work combines novel, original research that often lowers the chances of obtaining support through traditional channels.
A 2015 recipient of the prestigious NIH Director's Early Independence Award, Lyumkis has consistently pursued innovative approaches to major contemporary challenges in biomedical research. In particular, he harnesses single-particle cryo-electron microscopy—a cutting-edge technology that enables the visualization of large proteins and protein complexes under near-native conditions—to build three-dimensional models of the imaged objects. The resulting 3D models reveal never-before-seen aspects of protein function and sometimes reveal long sought-after clues in biology.
"Dmitry is the vanguard of the next generation of talented researchers pushing the limits of microscopy into uncharted territory," says Martin Hetzer, Salk's vice president and chief science officer. "We are pleased to have him continue his groundbreaking work here. His promotion is also a testament to the success of the Salk Fellows Program."
Lyumkis is using his expertise to make strides into understanding the atomic structure of key machinery that allows HIV to integrate into human host DNA and replicate in the body, which has eluded researchers for decades. His lab solved the first experimental structures of "intasomes" from HIV and other similar retroviruses, which revealed how the core components of these molecular machines are organized and poised to insert viral DNA into the host genome. The findings describing the intasome machinery yielded structural clues that could inform the development of new HIV drugs. His lab is actively expanding upon these studies, building up larger intasome complexes to understand the roles that host factors play and to decipher the mechanisms by which small molecules can inhibit these machines, which will help improve current antiretroviral therapies that are used to treat patients infected with the virus. In addition to work on intasomes, the lab is actively trying to push the limits of available technology, including reaching higher resolutions and understanding increasingly complex, dynamic and heterogeneous macromolecular machines, such as assembling ribosomes.
In addition to collaborating with numerous faculty at Salk, Lyumkis continues to work closely with scientists at The Scripps Research Institute, where he conducted his doctoral research and UC San Diego, where he did his undergraduate studies, in order to advance cryo-EM techniques.