Salk neuroscientist granted $1 million to harness sound to control brain cells
LA JOLLA—Salk Associate Professor Sreekanth Chalasani has been awarded a grant from the National Institutes of Health's (NIH) Brain Research through Advancing Innovative Neurotechnologies (BRAIN) Initiative for developing a way to selectively activate brain, heart, muscle and other cells using ultrasonic waves, which could be a boon to neuroscience research as well as medicine.
Chalasani will receive over $1 million for the first year of the award to expand his groundbreaking technology into mammalian cells. If it works in humans, such a technology could be used for deep brain stimulation—a common treatment in Parkinson's and depression. It could also be used outside of the brain to act as a pacemaker for a heart or to produce insulin from pancreatic cells.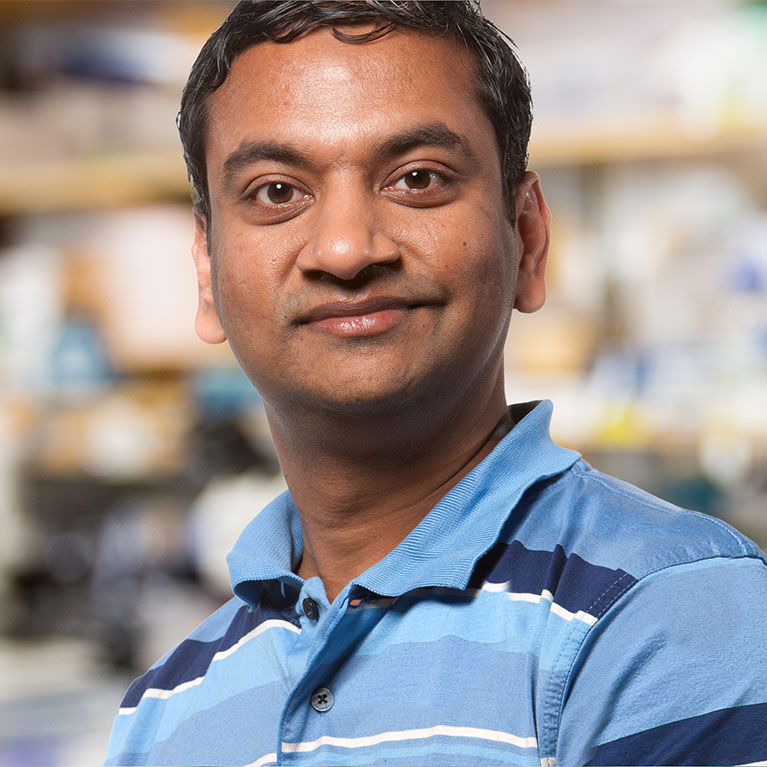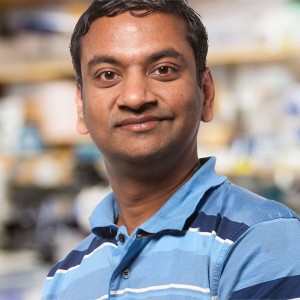 "The Chalasani lab developed a revolutionary way to precisely target specific cells in a living organism using sound waves," says Salk President Elizabeth Blackburn. "With support from the BRAIN Initiative, Sreekanth will be able to expand his trailblazing science which could lead to many exciting applications in research and medicine."
Chalasani's new technique, which he calls sonogenetics, has some similarities to the burgeoning use of light (optogenetics) to activate cells in order to better understand the brain, but is less invasive. This method–which uses the same type of waves used in medical sonograms–may have additional advantages over optogenetics particularly when it comes to adapting the technology to human therapeutics. Chalasani first demonstrated the technique on nematodes in 2015, showing that low-intensity ultrasound waves propagating into the worms caused a membrane ion channel called TRP-4 to open and activate cells. His team also added the TRP-4 channel and successfully activated neurons that don't usually react to ultrasound. With the new grant, Chalsani is developing technology to deliver focused ultrasonic waves to particular regions of the mammalian brain and is also exploring additional ion channels that could be targeted with ultrasound.
"I am very grateful for the support to pursue this research and see whether this technique can work in mammals and translate to humans for medical benefits," says Chalasani, who is collaborating with additional Salk labs as well as with the University of California, San Diego on the effort.
"In only three years we've already seen exciting new advances in neuroscience research come out of the BRAIN Initiative," says Walter J. Koroshetz, MD, director of NIH's National Institute of Neurological Disorders and Stroke. "There are very few effective cures for neurological and neuropsychiatric disorders. By pushing the boundaries of fundamental neuroscience research, NIH BRAIN Initiative scientists are providing the insights researchers will need to develop 21st century treatments."
About the BRAIN Initiative:
The Brain Research through Advancing Innovative Neurotechnologies® (BRAIN) Initiative is part of a new Presidential focus aimed at revolutionizing our understanding of the human brain. By accelerating the development and application of innovative technologies, researchers will be able to produce a revolutionary new dynamic picture of the brain that, for the first time, shows how individual cells and complex neural circuits interact in both time and space. Long desired by researchers seeking new ways to treat, cure, and even prevent brain disorders, this picture will fill major gaps in our current knowledge and provide unprecedented opportunities for exploring exactly how the brain enables the human body to record, process, utilize, store, and retrieve vast quantities of information, all at the speed of thought.
About the Salk Institute for Biological Studies:
Every cure has a starting point. The Salk Institute embodies Jonas Salk's mission to dare to make dreams into reality. Its internationally renowned and award-winning scientists explore the very foundations of life, seeking new understandings in neuroscience, genetics, immunology and more. The Institute is an independent nonprofit organization and architectural landmark: small by choice, intimate by nature and fearless in the face of any challenge. Be it cancer or Alzheimer's, aging or diabetes, Salk is where cures begin. Learn more at: salk.edu.
About the National Institutes of Health (NIH):
NIH, the nation's medical research agency, includes 27 Institutes and Centers and is a component of the U.S. Department of Health and Human Services. NIH is the primary federal agency conducting and supporting basic, clinical, and translational medical research, and is investigating the causes, treatments, and cures for both common and rare diseases. For more information about NIH and its programs, visit www.nih.gov.