Salk Institute receives $2 million for cancer research initiative
Stalwart Salk advocates make philanthropic investment into Institute's Conquering Cancer Initiative
LA JOLLA—The Salk Institute announced a $2 million gift in support of its new Conquering Cancer Initiative from its current Board of Trustees Chair, Dan Lewis, and his wife, Martina Lewis. The funds will be used to advance the Salk Cancer Center's highest research priorities, including new investigations into five of the deadliest cancers: lung, pancreatic, brain (glioblastoma), ovarian and triple-negative breast.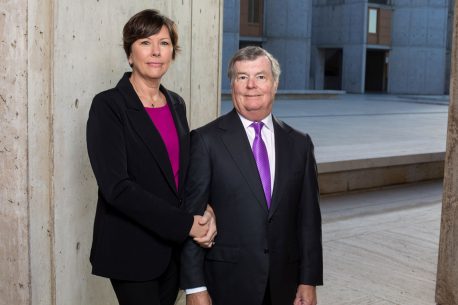 "Cancer is one of humanity's most destructive, devastating foes," says Salk President Rusty Gage. "This disease has long been a central focus of the Institute's investigations, and today more than ever generous gifts such as these are critical to pursuing the most promising areas in cancer research. Dan has been a great partner in leading the Institute as Chair, and this gift is another example of his dedication to advancing the mission of the Salk."
"Martina and I are very grateful to be able to support the efforts of the Salk Cancer Center," says Lewis. "Being able to even make this gift is a direct result of discoveries made at Salk, which changed my own cancer from a death sentence into a chronic-but-manageable condition. I'm living proof of what investments into Salk can mean for cancer care."
Lewis' story was inextricably tied to Salk's following his diagnosis with chronic myeloid leukemia (CML) in 2006. A diagnosis of CML had previously been akin to a terminal illness. But Salk Professor and former Cancer Center Director Tony Hunter's discovery of cellular switches called tyrosine kinase inhibitors led to the creation of the cancer drug Gleevec. Gleevec is used to manage CML without letting the disease become fatal.
"We are so very grateful to Dan and Martina for their incredible generosity and continued involvement as partners with our Cancer Center," says current Director Reuben Shaw. "Their continued commitment allows us to conduct life-saving research and is a reminder of the impact this important work has on patients. This kind of funding enables our researchers make the critical discoveries that identify and characterize new therapies for cancer."
Salk's Conquering Cancer Initiative was launched on April 20, 2018 with a panel discussion of new advancements in cancer research by Salk faculty in addition to a keynote address from former Vice President Joseph R. Biden, Jr. The initiative fund provides support for the scientific strategies, including the use of foundational biological research combined with advanced biomedical technologies to overcome hard-to-kill tumors in five of the deadliest cancers. Gifts received as part of the initiative will support early stage cancer research projects that show significant promise for major breakthroughs but may not be able to garner funding from traditional sources because of their newness. For more information on the Salk Cancer Initiative, please visit www.salk.edu/conqueringcancer.