Salk Institute mourns the loss of Professor Emeritus Walter Eckhart
A pioneer in cancer cell biology, Eckhart died June 21 at the age of 84
LA JOLLA—Professor Emeritus Walter Eckhart, who served as director of the Salk Institute's National Cancer Institute-designated Cancer Center and head of the Molecular and Cell Biology Laboratory for more than 30 years, died suddenly on June 21, 2022, at his home in La Jolla, California. He was 84.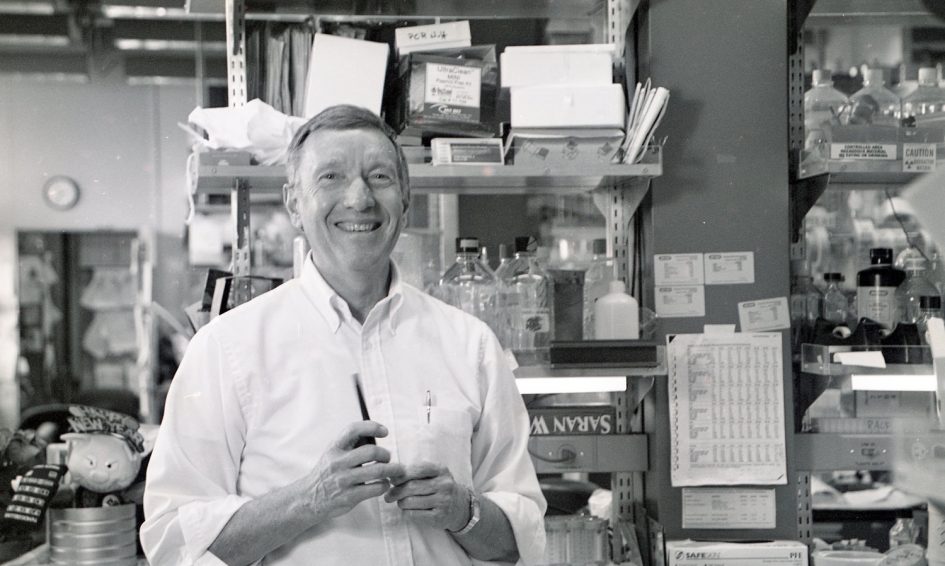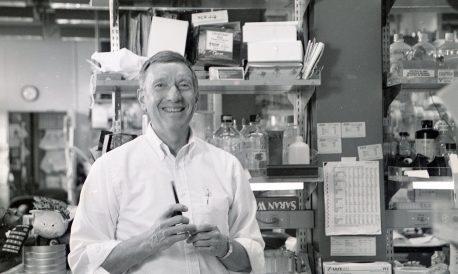 "Walter was a wonderful person and a terrific member of the Salk community. His career spanned from the origins of Salk as a bright and creative researcher, through to current times where he gave generously of his time and resources to support the Institute in many ways," says Salk President Rusty Gage. "We will miss him a great deal."
Eckhart joined Salk in 1965 as a postdoctoral scholar in the lab of Nobel Laureate and cancer researcher Renato Dulbecco. He then became one of the first assistant professors at the Institute in 1969.
"I was attracted by the world-class research being done at the Institute," Eckhart said in a recent interview for an upcoming issue of Inside Salk magazine. "The collaborative, interactive environment was exceptional."
Eckhart was a leader in understanding the basic biology underpinning cancer. He studied regulation of cell growth, including the effects of cancer-causing genes (oncogenes), growth factors and communication between adjacent cells (gap junctional intercellular communication).
"Walter played a key role in the early days of the Institute, being tasked to recruit the first cohort of assistant professors in the early 1970s and setting up the Tumor Virology Laboratory, which had many successes in discovering the molecular basis of cancer," says Professor Tony Hunter, who followed Eckhart as Salk Cancer Center director from 2008 to 2016. "Walter was my postdoctoral adviser at the Institute and recruited me as an assistant professor in 1974, and without his mentorship and support, I could never have been so successful. He was a modest and unassuming man, but always willing to provide sage advice to anyone who asked and to help new faculty. He will be sorely missed."
Professor Reuben Shaw, Salk's current Cancer Center director, notes Eckhart's tremendous impact as a Salk leader.
"Without Walter's steady leadership and literally decades of recruiting the top rising stars in cancer research from across the world, the Salk Cancer Center would not be the landmark of cancer research that it is today," Shaw says.
Eckhart was born in 1938 in Yonkers, New York, where he grew up. He attended Gorton High School in Yonkers and was the school's newspaper editor and class valedictorian. Eckhart went on to attend Yale University, where he received a bachelor's degree in biophysics in 1960. Upon graduation, he wrote to famed British molecular biologist, biophysicist and neuroscientist Francis Crick, requesting to work for him in Crick's lab at the University of Cambridge. Crick wrote back, kindly rejecting Eckhart, but that didn't stop Eckhart—he continued to write to Crick until he finally relented and offered Eckhart a job.
Eckhart took a ship to England, and once on the Cambridge campus, roamed around for two days, too nervous to meet his hero. He finally worked up the courage and went on to work in Crick's lab for a year.
Following his stint at Cambridge, Eckhart worked at the Woods Hole Oceanographic Institution in Massachusetts in 1960. He then attended the University of California, Berkeley, where he earned his PhD in molecular biology in 1965.
Eckhart looked up to Crick, who shared the 1962 Nobel Prize in Physiology or Medicine for discovering the molecular structure of DNA. But it was a famed cancer researcher who drew him to the Salk Institute.
"When I thought about who I wanted to work with, one name came to mind—Dulbecco," said Eckhart in a 2014 article in the San Diego Union-Tribune. (Crick, too, later joined the Salk faculty.)
After his retirement from Salk in 2009, Eckhart and his wife Karen Lane, also a Salk alum, made it their mission to financially support scientific progress at the Institute. To date, Eckhart and Lane have given more than $1 million to the Institute, primarily to Salk's unrestricted fund, meaning their contributions are given without restrictions to allow the Institute to put their contributions toward the greatest needs.
In the Winter 2020 issue of Inside Salk, Eckhart explained why after decades of hard work and scientific excellence as a faculty member of the Salk Institute he felt he could do more to further Salk's mission.
"I go back to a famous Jonas Salk quote: 'The reward for a job well done is the opportunity to do more.' I think about that often when it comes to giving," Eckhart said. "I've worked in basic research my entire career, so I can tell you the impact basic research has on society is far-reaching. I also think it's important to know that Salk is training the next generation of scientists."
Eckhart is survived by his wife, Karen Lane; her daughter and son-in-law, Jasmine Penick and David Penick, and their children, Shane and Emma; Eckhart's sister, Elizabeth Nagle, and her husband, Jack Nagle; nephew Rob Nagle and his wife, Heather Allyn; and nephew David Nagle, his wife, Siana Nagle, and their daughters, Imogen and Sally; and by his first wife, Karen Eckhart.
In lieu of flowers or gifts, the family requests donations be made to the Salk Institute and the Walter Eckhart Endowment Fund.