Salk Institute mourns the loss of Distinguished Professor Emerita Ursula Bellugi
A pioneer in the neurobiology of American Sign Language and Williams syndrome studies, Bellugi died April 17 at the age of 91
LA JOLLA—Ursula Bellugi, Distinguished Professor Emerita and Founder's Chair at the Salk Institute, 2008 inductee to the National Academy of Sciences and winner of the Jacob Javits Neuroscience Investigator Award, died peacefully on April 17, 2022, in La Jolla, CA, at the age of 91.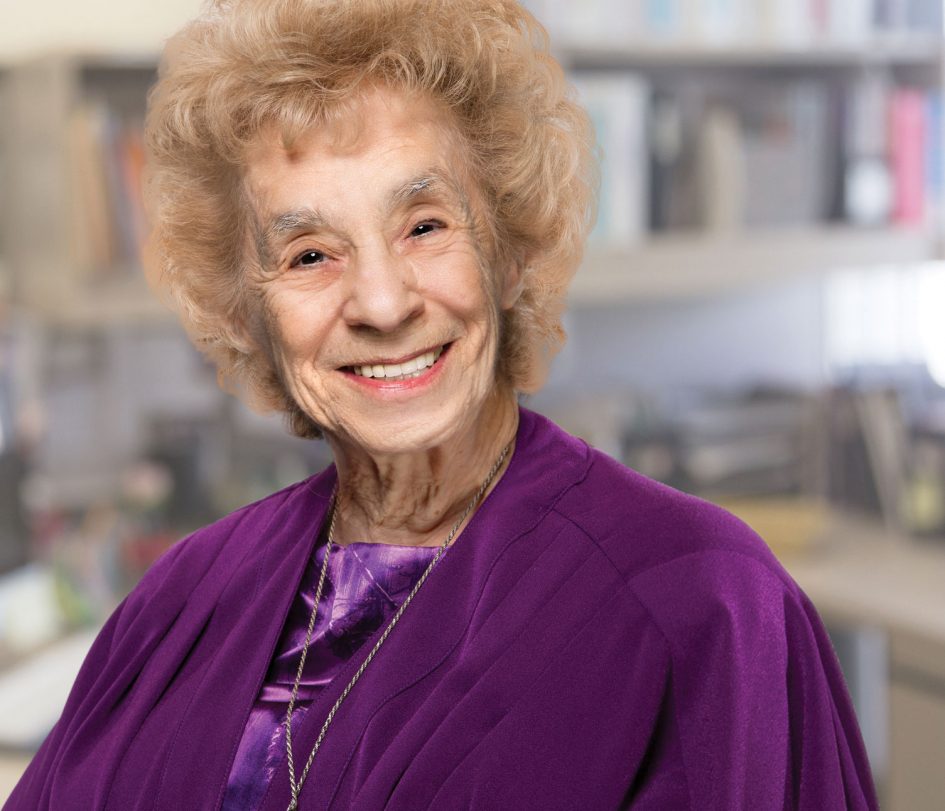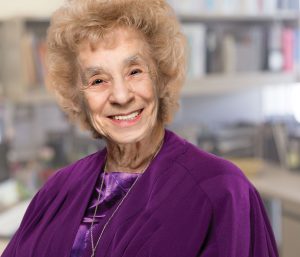 "All of us at Salk are grieved by the loss of Ursula Bellugi," says Salk President Rusty Gage. "She leaves an indelible legacy of shedding light on how humans communicate and socialize. The humanity and compassion she brought to her work was truly special and our community will miss her dearly."
Bellugi joined Salk in 1968, following a brief tenure as an assistant professor and research fellow at Harvard University. She became director of Salk's Laboratory for Cognitive Neuroscience in 1970.
Her contributions to our understanding of the role biology plays in communication are virtually unparalleled; she is widely regarded as the founder of the neurobiology of American Sign Language (ASL). Bellugi was the first to demonstrate that ASL is a true language. She studied its neurological facets extensively, leading to the discovery that the same areas of the human brain that specialize in spoken language are activated by sign language—a striking demonstration of neuronal plasticity. This work also provided significant insights into how the brain learns and interprets (and even forgets) language.
Bellugi also leveraged her expertise to better understand Williams syndrome and autism, two conditions that affect social behaviors in opposite ways. Through her use of advanced imaging technologies, Bellugi was able to visualize how related gene deletions alter brain activity, map the affected neural circuits and develop stem cell reprogramming techniques to reveal the biological basis of these drastically different disorders.
Beyond the lab, she was always sure to embrace the human side of her work. Annual gatherings for children with Williams syndrome that participated in her studies were eagerly anticipated by researchers and participants alike, ensuring that any work conducted at Salk was grounded in the people who made it possible.
Bellugi was born in Jena, Germany (about 45 miles southwest of Leipzig) on February 21, 1931, to Max and Edith Herzberger. Her family immigrated to the United States when Bellugi was young. She completed her undergraduate studies at Antioch College in Yellow Springs, OH, in 1952. She went on to earn her Doctor of Education from Harvard University in 1967. Shortly after completing her EdD, she became an associate professor at Harvard before moving west to work at Salk. In addition to her position at Salk, Bellugi held adjunct professorships at UC San Diego and San Diego State University.
She authored numerous books and was a much sought-after speaker on the subjects of neurobiology, language and other topics. The Signs of Language, published in 1979 and written with her late husband Edward Klima and several colleagues, is considered a seminal publication on the grammar and psychology of signed language.
In addition to the Javits Neuroscience Investigator Award, Bellugi was the recipient of numerous awards recognizing her contributions to linguistics and neurobiology. These included being elected to the National Academy of Sciences and the American Association for the Advancement of Science. She was honored with two MERIT awards from the Eunice Kennedy Shriver National Institute of Child Health and Human Development, a Woman of the Decade Award from the City of Los Angeles, and a Distinguished Scientific Contribution Award from the American Psychological Association.
In 2019 the Salk Trailblazer award was renamed in honor of Bellugi, who established an endowed fund to support those who have pioneered changes within STEAM fields. The Ursula Bellugi Trailblazer Award recognizes outstanding achievements made by women in their fields.
Even as she grew older, Bellugi never lost her ability to derive happiness from her work. When, in the course of a 2015 interview by the San Diego Union-Tribune, she was asked why she had continued to work well into her eighties, she "cocked her head, as if to say, 'are you really asking me why I still have a lab at 84?'" Her answer to the question summed up her attitude towards research: "My work is a joy," she said, "I have a passion for this. I don't know how to explain it any other way."
Bellugi was predeceased by her husband Edward Klima and her son David Bellugi. She is survived by her son Rob Klima, her sister Ruth Rosenberg, her brother Hans Herzberger, and by four grandchildren and five great-grandchildren.
In lieu of flowers, the family requests donations be made to the Salk Women & Science Special Awards Fund or the Ursula Bellugi Endowment Fund, both of which benefit early career scientists, at www.salk.edu/bellugi-memorial.