Salk Institute launches Conquering Cancer Initiative
LA JOLLA—On Friday, April 20, 2018, the Salk Institute launched a new initiative called Conquering Cancer, to harness specific and emerging scientific strategies to tackle the five deadliest cancers: pancreatic, ovarian, lung, brain (glioblastoma) and triple-negative breast.
The event opened with a panel discussion moderated by Salk Vice Board Chair Marna Whittington and including cancer experts and Salk faculty Ronald Evans, Diana Hargreaves, Susan Kaech, Geoffrey Wahl and director of the Cancer Center at the Salk Institute, Reuben Shaw.
"The Salk Cancer Center aims to catalyze discovery beyond boundaries, redefining humanity's fundamental understanding of cancer," says Shaw. "We will leverage that new knowledge to develop therapeutics that transform how we treat cancer."
The keynote address was delivered to the audience of 300 Salk donors, faculty and supporters by Joseph R. Biden, Jr., 47th Vice President of the United States, who led the White House Cancer Moonshot initiative. That initiative resulted in more than 80 new actions and collaborations from the public and private sectors to speed progress in cancer prevention, diagnosis, treatment and care.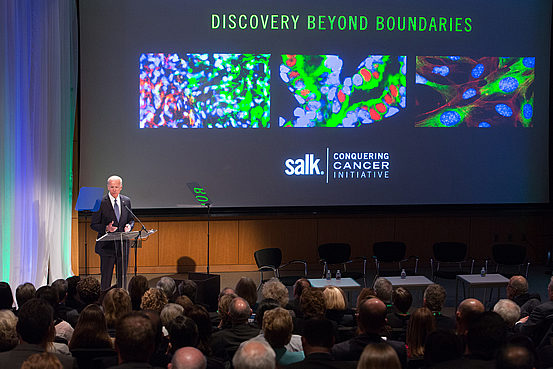 "Cancer research comes with its own complex mazes to navigate. That's what this Institute has been so successful at for decades—at taking on the big challenges and delivering new breakthroughs," said Vice President Biden during his keynote. "Salk is doing that again today with this new cancer initiative—to take some of the toughest-to -treat cancers: brain, ovarian, pancreatic, breast cancer and lung cancer."
Salk is uniquely positioned to address cancer, one of humanity's greatest challenges, because it is home to one of the first National Cancer Institute (NCI)–designated basic research cancer centers in the United States, established in 1970. This designation recognizes the Institute's rigor across its laboratory research, scientific discoveries and therapeutic cures. Today, the Salk Institute Cancer Center constitutes half of the total research at the Salk Institute—32 faculty members, 199 postdoctoral researchers, 41 graduate students and 101 research assistants.
"In my view, the Salk Institute has chosen the right moment to double down on its investment in taking on this disease and to launch the Conquering Cancer Initiative—because I believe we have reached an inflection point in the fight against cancer," said Biden and further spoke about co-chairing—along with his wife, Dr. Jill Biden—the Biden Cancer Initiative, whose mission is to develop and drive implementation of solutions to accelerate progress in cancer prevention, detection, diagnosis, research and care, and to reduce disparities in cancer outcomes.