Salk Institute announces historic $100M challenge gift from Irwin and Joan Jacobs
Donation will underwrite construction of the Joan and Irwin Jacobs Science and Technology Center
LA JOLLA—The Salk Institute announced today that Irwin and Joan Jacobs, longtime supporters of the renowned scientific research organization, have pledged $100M to launch Salk's five-year, $500M philanthropic and scientific Campaign for the Future. The gift is structured as a challenge match, adding $1 to every $2 pledged, as a donor naming or endowment gift. The Campaign for the Future will provide funds to construct the Joan and Irwin Jacobs Science and Technology Center on Salk's iconic campus in La Jolla, support key scientific programs, and increase Salk's endowment.
"With this transformative gift and challenge to Salk, Irwin and Joan are helping shape the next chapter in Salk's famed history," said Salk President Rusty Gage. "It builds on the legacy of Jonas Salk and will advance scientific discovery at Salk for decades to come," Gage added.
The Joan and Irwin Jacobs Science and Technology Center will be home to four scientific Centers of Excellence, advancing discoveries in plant biology, computational biology, engineering, cancer and aging. The facility will provide much-needed research and administrative space to advance Salk's scientific efforts supporting expansion of the Institute's activities in developing new drugs and therapies to fight cancer and neurodegenerative diseases, and finding ways to address climate change.
"Joan and I continue to expand our family tradition of supporting effective nonprofit institutions with the potential to positively impact many lives," says Irwin. "We focus on projects that have well-defined goals and good leadership, and Salk is exemplary in both ways. We strongly advocate expanded philanthropy in support of basic science and engineering."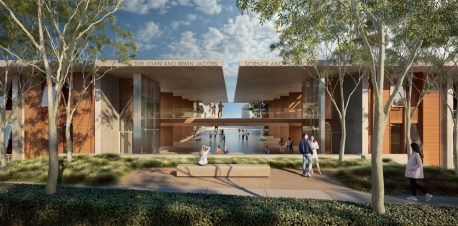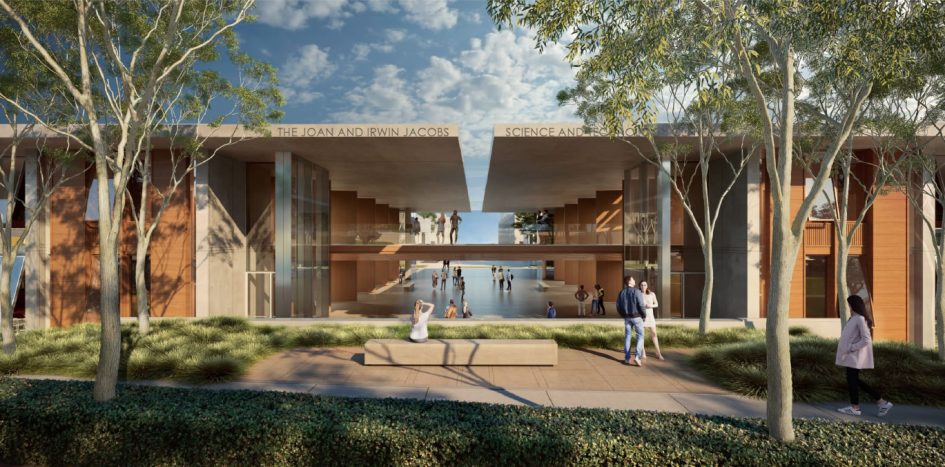 Salk's mission is to explore the very foundations of life and this gift will help expand the campus in keeping with Jonas Salk's vision for the Institute. The expansion is a historic milestone in both the Institute's history and in San Diego's life sciences community. Construction of the original buildings, designed by famed architect Louis Kahn in partnership with Jonas Salk, helped establish San Diego's reputation as a center for life sciences research that today is a major driver of our regional economy.
The Jacobs have a long history of involvement and support for the Salk Institute. In the early 2000's, Irwin Jacobs began participating with the Salk International Council (now the Institute Council), a group of professionals dedicated to advocating for Salk science. In 2004, the Jacobs helped to establish the Crick-Jacobs Center for Computational and Theoretical Biology, where Salk scientists use computer modeling to study how the brain processes information. The new building will be home to an expanded Crick-Jacobs Center.
Another early effort supported by the Jacobs was the creation of Salk's Innovation Grants, an ongoing initiative that funds early stage, potentially trailblazing research ideas that would otherwise not attract traditional funding. In 2006, Irwin Jacobs became the Chair of the Salk Board of Trustees, a position he held until 2016. In his role as Chair, he spearheaded Salk's first capital campaign, The Campaign for Salk, which raised $360 million for the Institute, exceeding the goal of $300 million, and helped catalyze the funding of 20 Endowed Chairs with a matching gift challenge.
"The support exemplified by the Jacobs ensures that Salk scientists can continue to pursue the bold, life-changing science the Institute is renowned for," added Gage. "The Jacobs' dedication to Salk research is unwavering, and we will work tirelessly to ensure this challenge grant is matched so we can look forward to the day Irwin and Joan can help us break ground on this exciting new building."