« Back to Volunteer Opportunities Index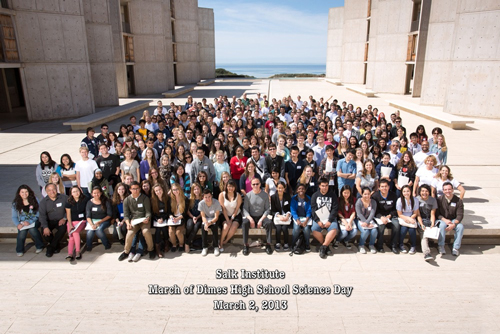 What is it?
The March of Dimes High School Science Day is half-day community outreach event designed to get high school students interested in considering an exciting career in science and research. The day's events include interactions with some of the Salk Institute's world-renowned researchers (YOU!) via lab tours, and a keynote by one of our faculty. Each year, nearly 250 students and their teachers sign up. 2015 was the 25th year that Salk scientists have come together to offer this amazing opportunity!
When is it?
February 27, 2016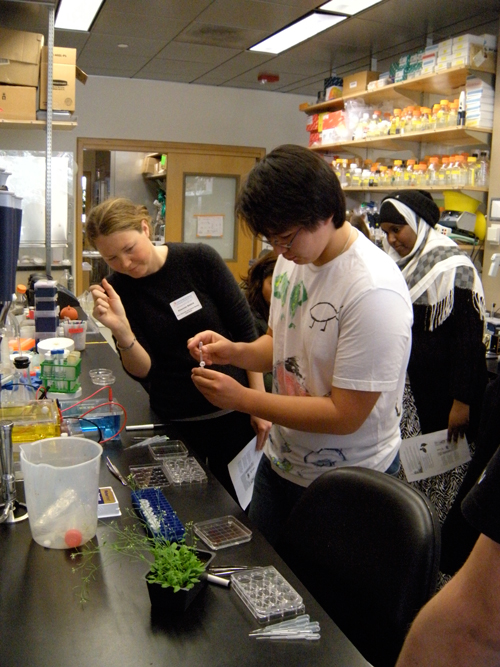 How can I help?
LAB TOUR GUIDES:
We need lab tour guides from each laboratory. Interested parties are asked to develop and conduct hands-on, introductory laboratory tours for approximately 5-10 students. Assistance in determining level appropriate activities and/or creating handouts etc. is available from Education Outreach if requested. You'll do two lab tours (same activities — different students) each lasting about 45-50 minutes. The lab tours will be from 10:00-10:50am, and 11:00-11:50am. Following the laboratory tours, you'll join the students in the main courtyard for the group picture followed by lunch and informal conversations. The scientists who participate will receive a $75 honorarium, a collector's edition MODHSSD T-shirt, a collector's edition MODHSSD memorabilia item, lunch and your very own copy of the official group photo.
GROUP ESCORTS:
We need a small army of people to act as group leaders for the various student groups as they tour the labs. You will be escorting small groups of students (5-10) to and from the labs for the tours (of course you get to stay for the tour as well!) — don't worry if you don't know where all the labs are — we'll provide maps and an orientation and there will be lots of signs!
Guide volunteers will need to arrive at Salk for orientation at 8:00 am on Sat. Feb 27. The program starts at 9:00. Tours will be from 10:00-12:00, followed by a free lunch and then a special presentation by the faculty speaker. All volunteers will receive a free collector's edition MODHSSD t-shirt, a free MODHSSD collectible memorabilia item, as well as lunch, your very own copy of the official group photo and the gratitude of hundreds of future scientists!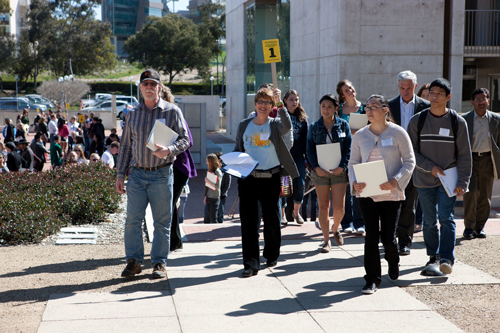 How do I sign up?
Click HERE for the volunteer information form.
Please volunteer to impact science education!