Tony Hunter receives Pezcoller Foundation–AACR International Award for Extraordinary Achievement in Cancer Research
Salk scientist celebrated for seminal contributions to cancer research
LA JOLLA—Professor Tony Hunter, who holds an American Cancer Society Professorship at the Salk Institute, has received the 2018 Pezcoller–AACR International Award for Extraordinary Achievement in Cancer Research, one of the most prestigious honors in the field of cancer research. The prize recognizes a scientist of international renown who has made a major scientific discovery in basic cancer research or who has made significant contributions to translational cancer research.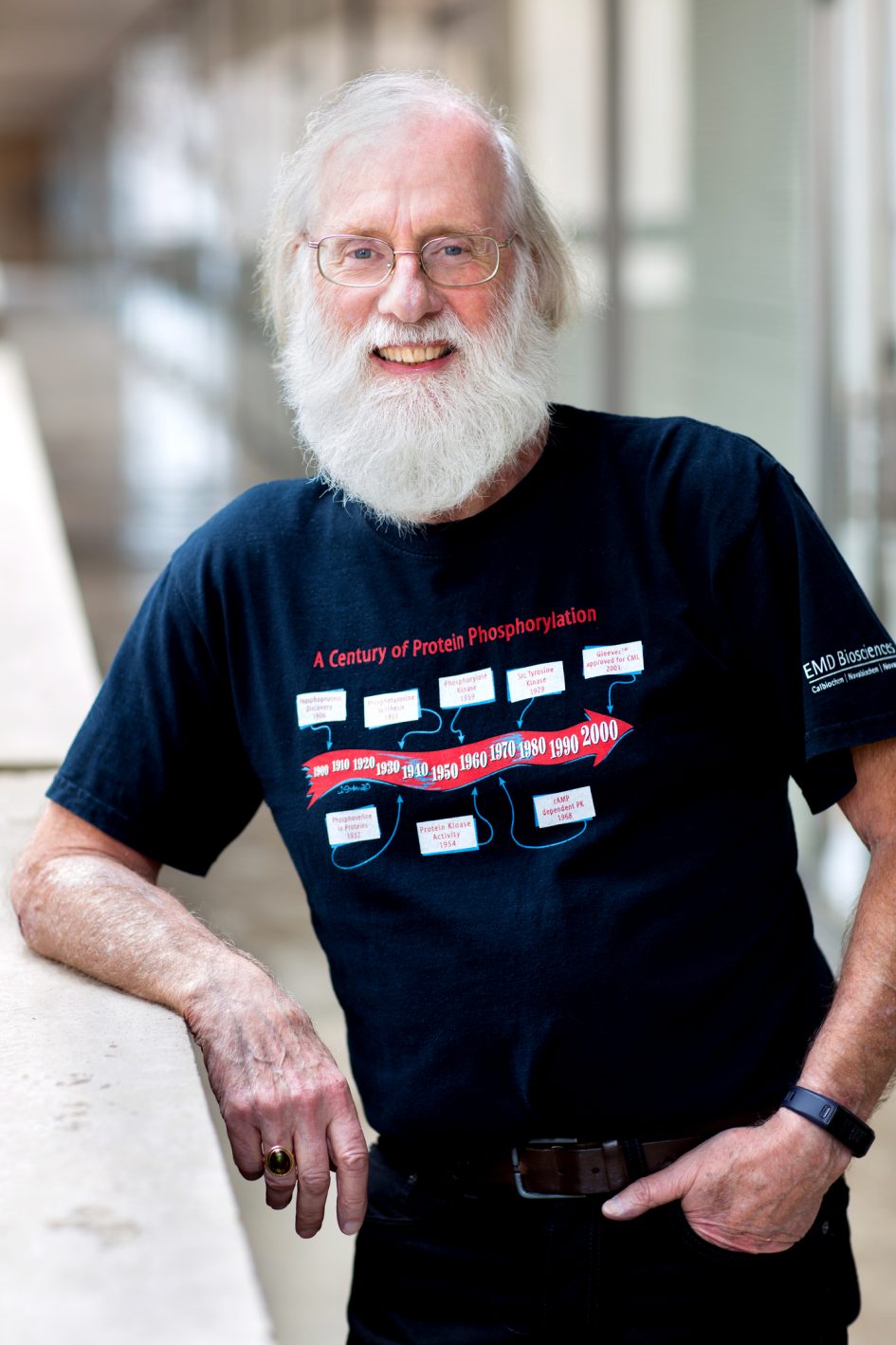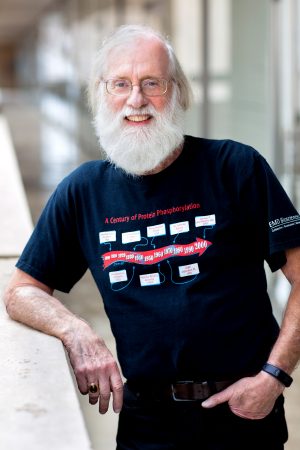 The €75,000 prize will be awarded at a ceremony to be held at the Teatro Sociale in Trento, Italy, on May 19, 2018. The prize lecture will be given at the AACR Annual Meeting in Chicago on April 15.
"Salk's long-running focus on defeating cancer has resulted in extraordinary discoveries that have led to life-changing, indeed, life-saving treatments," says Rusty Gage, Salk's Interim President. "As one of the great luminaries in the field, Tony has helped to pioneer our unique approach and lead the way in this critical area. We salute him for his numerous accomplishments and this well-deserved international recognition."
Hunter is known for his 1979 discovery of a mechanism called tyrosine phosphorylation, which is a molecular switch that turns normal cells cancerous. The breakthrough led to a new type of cancer pharmaceutical, the tyrosine kinase inhibitor. This class of drugs has revolutionized the treatment of chronic myeloid leukemia with the game-changing therapy Gleevec, and also is of great benefit in several other forms of cancer. Hunter's work has led to a complete catalogue of the 90 human genes that encode tyrosine kinases, over half of which have become targets for the development of drugs to treat cancer and other human diseases. Currently, 31 tyrosine kinase inhibitors are FDA approved for human therapy, with many more in clinical trials.
"We must continue to be relentless in our fight to end cancer, and harness the best scientific minds in the world to develop new breakthrough therapies to conquer one of the most devastating diseases facing humanity," says Hunter. "I am honored to receive this award which I share with all the other researchers who are committed to this vital quest."
Hunter, who holds the Renato Dulbecco Chair in Salk's Molecular and Cell Biology Laboratory, also received the inaugural Sjöberg Prize in 2017 for cancer research. Additionally, he is the recipient of the BBVA Foundation Frontiers of Knowledge Award in Biomedicine, the Royal Medal in the Biological Sciences of the Royal Society, the Wolf Prize in Medicine and the Gairdner International Award, among other prestigious honors. He is a member of the National Academy of Sciences, the National Academy of Medicine, the American Academy of Arts and Sciences and the American Philosophical Society. Born in 1943 in Ashford, Kent, in the United Kingdom, Hunter is also a fellow of the Royal Society of London.