Salk's Xin Jin receives McKnight Memory and Cognitive Disorders Award
LA JOLLA—Xin Jin, an associate professor in Salk's Molecular Neurobiology Laboratory, has been selected as one of four scientists to receive the McKnight Memory and Cognitive Disorders award from the McKnight Endowment Fund for Neuroscience to study how the brain learns, remembers and executes actions. The award, which comprises $300,000 over three years, includes participation in the annual McKnight Conference on Neuroscience.
"Xin's work, which uses the cutting-edge technique of optogenetics to activate neurons with light, is greatly advancing our understanding of how the brain carries out actions," says Salk President Rusty Gage. "We are extremely grateful to the McKnight Endowment Fund for supporting his research, which has so much relevance for diseases such as Parkinson's, Huntington's and OCD."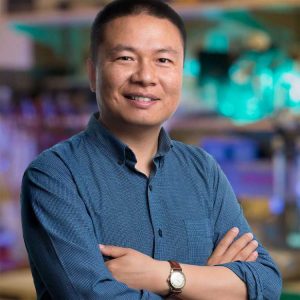 The McKnight Endowment Fund for Neuroscience is an independent charitable organization established by the McKnight Foundation that three competitive awards each year that "seek out investigators whose research shows promise in bringing society closer to preventing, treating, and curing many devastating diseases." These include impairments like Alzheimer's and Parkinson's diseases; multiple sclerosis, spinal cord injuries, and others.
"This year's McKnight Memory/Cognitive Disorders award winners once again represent some of the best scientific talent from around the country. These scientists are addressing the basic question of how memory works, and they are using cutting edge approaches to understand the underlying neurobiology of some of the most devastating brain and cognitive disorders we are battling today," said Wendy Suzuki, chair of the awards committee and Professor of Neural Science and Psychology at New York University.
Jin charts the fundamental principles of how the brain learns and generates actions to develop cures for a wide range of related neurological and psychiatric diseases. He uses a variety of tools to uncover the neural circuits and molecular mechanisms underlying action learning and selection.
Recently, he resolved a longstanding scientific debate about how learned behavior is organized in the brain, discovered that it is organized in a hierarchy with multiple levels of control. The work offers possible new therapeutic targets for disorders that involve an inability to control one's actions, such as Parkinson's and obsessive-compulsive disorder (OCD). Prior to that, Jin clarified the relationship of two types of neurons to psychiatric and sensory/movement disorders, respectively. The different communication pathways these two types of "interneurons" represent may offer new drug targets for disorders as diverse as Parkinson's, OCD, depression and autism.
Jin is also the recipient of a Whitehall Foundation award, an Ellison Medical Foundation New Scholar in Aging award, a Society for Neuroscience Gruber International research award, as well as several other prestigious honors.