Salk scientist Tony Hunter receives National Cancer Institute Outstanding Investigator Award
LA JOLLA, CA—Salk scientist Tony Hunter has received a National Cancer Institute (NCI) Outstanding Investigator Award (OIA), which supports accomplished leaders in cancer research. Hunter, who is an American Cancer Society Professor, will receive more than $7,500,000 over the next seven years to further his work. According to the NCI, the award supports investigators who are providing significant contributions toward understanding cancer and developing applications that may lead to a breakthrough in cancer research.
"Tony's seminal discovery in 1979 that tyrosine residues in proteins are phosphorylated by specific kinases, and that the aberrant regulation of tyrosine kinases has been shown to be a critical hallmark of many cancer cell​s, changed the course of development for cancer therapies," says Salk President Rusty Gage. "We are delighted that he continues to receive recognition for his outstanding achievements as well as ongoing support for his innovative research to discover new therapeutic targets."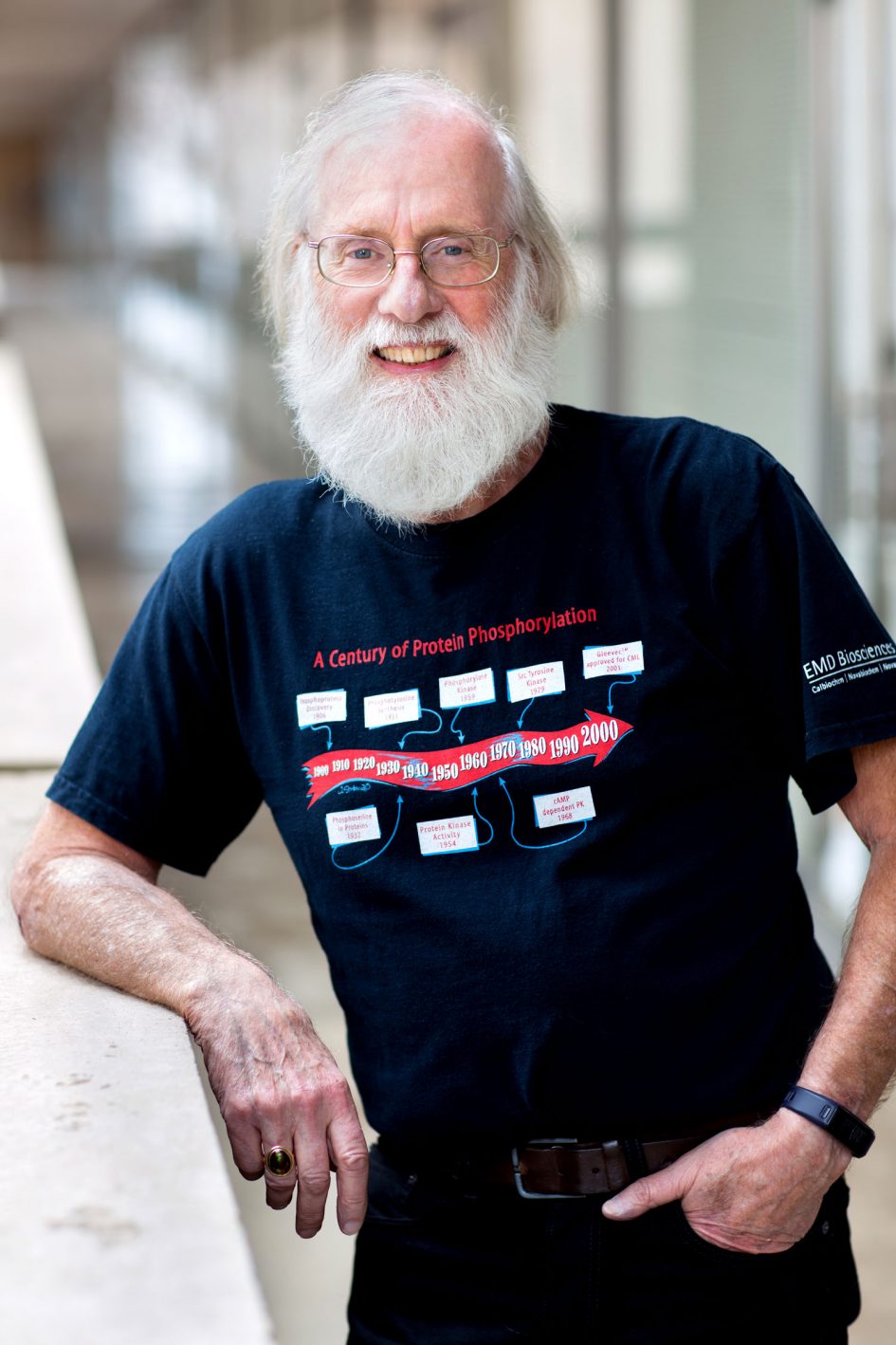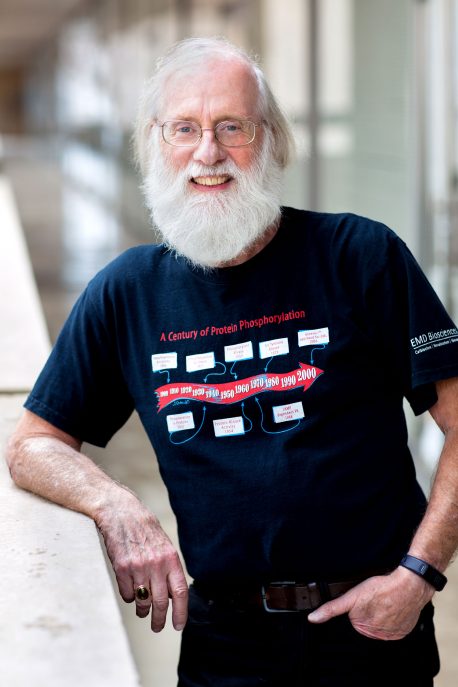 Hunter is known for his elucidation of a mechanism called tyrosine phosphorylation, which is a molecular switch that turns normal cells cancerous. The breakthrough led to a new type of cancer pharmaceutical, the tyrosine kinase inhibitor. The drug Gleevec, for example, has revolutionized the treatment of chronic myeloid leukemia and several other forms of cancer. Hunter's work has led to a complete catalog of the 90 human genes that encode tyrosine kinases, over half of which have become targets for the development of drugs to treat cancer and other human diseases. Currently, 37 tyrosine kinase inhibitors are FDA approved for human therapy, with many more in late-stage clinical trials.
"I am excited to have been recognized in this way, and delighted that this award will provide stable funding for the next seven years to support our work on histidine phosphorylation in cancer," says Hunter, who holds the Renato Dulbecco Chair in Salk's Molecular and Cell Biology Laboratory. "Having discovered tyrosine phosphorylation and its role in cancer near the start of my career at the institute, it is somehow fitting that 40 years later, near the end of my career, this award will allow me to study another new protein phosphorylation and its role in cancer."
With the NCI funding, Hunter plans to examine a different type of phosphorylation, called histidine phosphorylation, which occurs when a phosphate is added to the amino acid histidine in proteins. He is interested in discovering how the reversible attachment of a phosphate to histidine works on a molecular level in order to better understand how it affects protein regulation and activity. Hunter suspects the phosphorylation of histidine may play an important role in normal cell function, human disease such as cancer, and could serve as a new cancer therapeutic target.
"The NCI Outstanding Investigator Award addresses a problem that many cancer researchers experience: finding a balance between focusing on their science while ensuring that they will have funds to continue their research in the future," said Dinah Singer, deputy director of NCI. "With an anticipated seven years of uninterrupted funding, NCI is supporting the opportunity for investigators to fully develop exceptional and ambitious cancer research programs."
Hunter also recently received the 2018 Tang Prize in Biopharmaceutical Science, the 2018 Pezcoller Foundation–AACR International Award for Extraordinary Achievement in Cancer Research, and in 2017, the inaugural Sjöberg Prize for Cancer Research.
Hunter is the third Salk scientist in the award's five-year history to be named an NCI Outstanding Investigator. The others include Professor Reuben Shaw and Professor Geoffrey Wahl.
About the NCI:
The National Cancer Institute (NCI) coordinates the United States National Cancer Program and is part of the National Institutes of Health, which is one of eleven agencies that are part of the U.S. Department of Health and Human Services. The NCI conducts and supports research, training, health information dissemination, and other activities related to the causes, prevention, diagnosis, and treatment of cancer; the supportive care of cancer patients and their families; and cancer survivorship.

About the Salk Institute for Biological Studies:
Every cure has a starting point. The Salk Institute embodies Jonas Salk's mission to dare to make dreams into reality. Its internationally renowned and award-winning scientists explore the very foundations of life, seeking new understandings in neuroscience, genetics, immunology, plant biology and more. The Institute is an independent nonprofit organization and architectural landmark: small by choice, intimate by nature and fearless in the face of any challenge. Be it cancer or Alzheimer's, aging or diabetes, Salk is where cures begin. Learn more at: salk.edu.