Salk scientist Tony Hunter receives 2022 AACR Lifetime Achievement Award in Cancer Research
LA JOLLA—Salk Institute Professor Tony Hunter will receive the 2022 American Association for Cancer Research (AACR) Award for Lifetime Achievement in Cancer Research at the April annual meeting of AACR, the largest cancer research organization in the world dedicated to preventing and curing all cancers. This major award is a significant recognition of Hunter's contributions to cancer research, which have led to the development of the highly effective leukemia drug GleevecTM.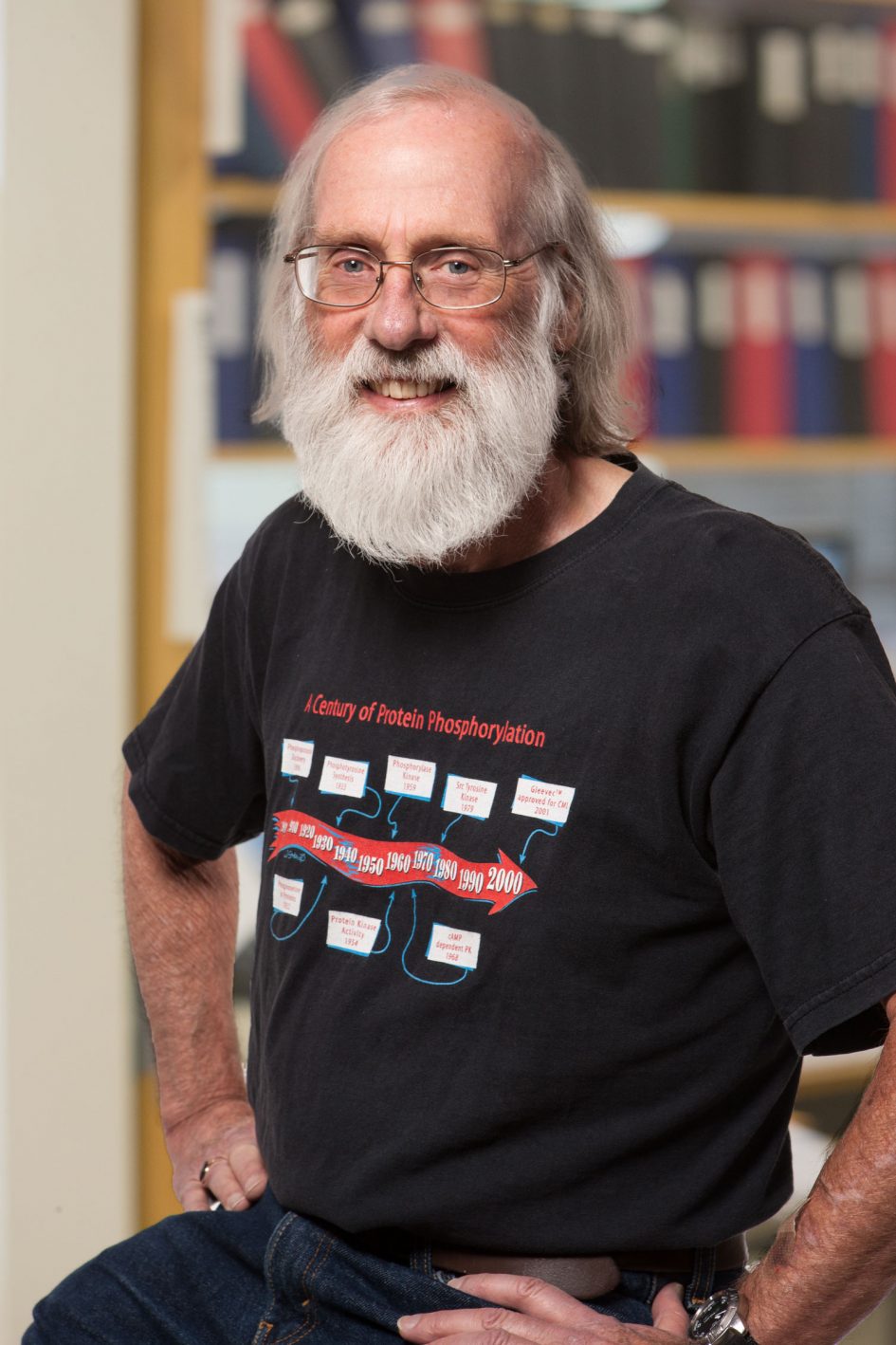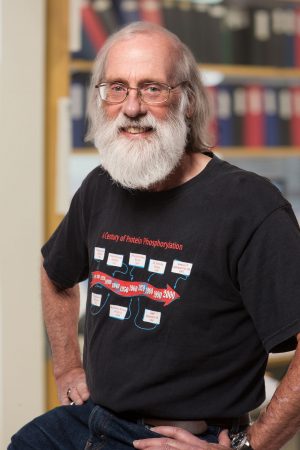 "This prestigious award is a fitting recognition of Tony's research contributions throughout his extensive career," says Salk President Rusty Gage. "His seminal discovery of the importance of tyrosine phosphorylation in cancer has not only broadened our understanding of cancer but has paved the way for developing successful therapeutics for leukemia and other cancers."
Hunter, who is an American Cancer Society Professor and holds the Renato Dulbecco Chair, studies the molecular basis of normal cell growth control and cell cycle regulation, and what happens when these processes are disrupted—such as occurs in tumors. He is widely known for his 1979 discovery of a molecular switch called tyrosine phosphorylation that, when flipped on permanently, can trigger cancer cell proliferation by adding phosphate to the amino acid tyrosine in proteins in an uncontrolled manner. This discovery launched an entirely new field of research and has led to a new class of anti-cancer drugs known as tyrosine kinase inhibitors.
Kinases are the enzymes that add phosphate groups to proteins, a vital step in cellular communication. But if kinases malfunction and get stuck in an "always-on" state, normal cells can become cancerous. By developing small molecule drugs that block the activity of these enzymes, researchers have been able to produce effective targeted cancer therapies, with more than 60 tyrosine kinase inhibitors now approved for clinical use, including GleevecTM.
Hunter's lab continues to study phosphorylation of proteins in cancer, now focusing on a different type of phosphorylation in which phosphate is added to the amino acid histidine in proteins. He hopes that his research in this unexplored area will ultimately lead to new therapeutic approaches for cancer treatment.
"I am deeply honored to have been recognized by the AACR in this way," says Hunter. "This award reflects not only my own contributions but those of everyone who has worked in my group over the past 45 years, as well as my many talented colleagues at the Institute that I have been privileged to collaborate with during my career."
Hunter has been a member of Salk's faculty since 1975. Throughout his tenure, he has received numerous awards for his pioneering cancer research. In 2019, he received a National Cancer Institute Outstanding Investigator Award for his work on histidine phosphorylation. A year prior, Hunter was recognized with the Pezcoller-AACR International Award for Extraordinary Achievement in Cancer Research and the Tang Prize in Biopharmaceutical Sciences.