Salk scientist Gerald Joyce named 2017 AAAS Fellow for contributions to science
LA JOLLA—Salk Professor Gerald Joyce has been a named a 2017 Fellow of the American Association for the Advancement of Science (AAAS), the world's largest general scientific society. He earned the recognition for his distinguished research, which has had a profound impact on the scientific understanding of Darwinian evolution at the molecular level, especially pertaining to the evolution of RNA.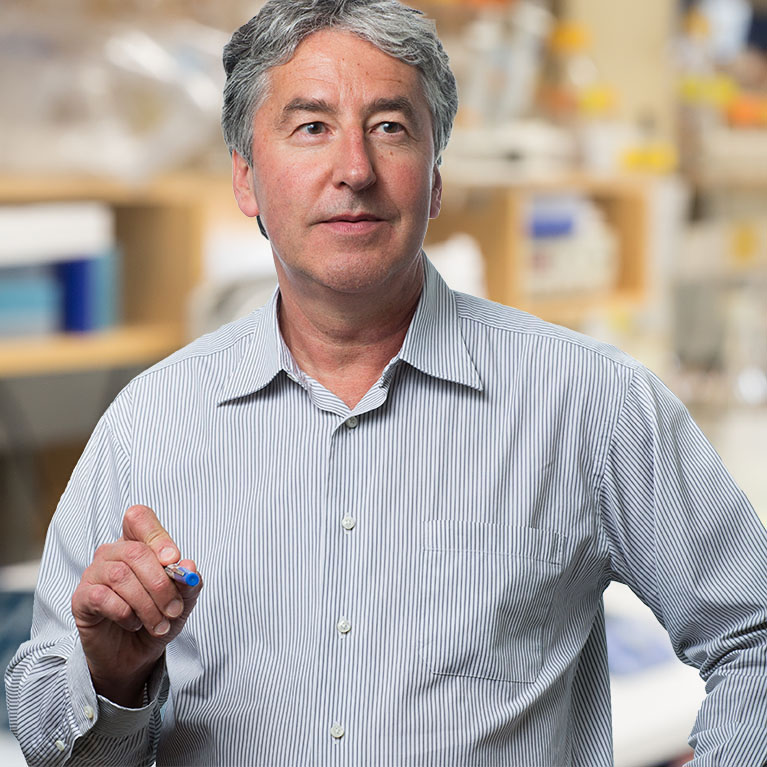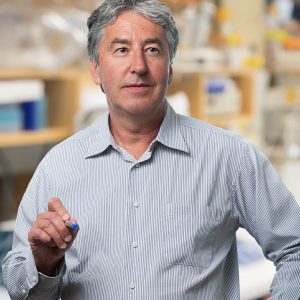 "Jerry's research is tremendously important, both for understanding how life arose and first evolved in the past and for moving forward with developing biomolecular therapies based on that knowledge," says Salk President Elizabeth Blackburn. "We are delighted that his work is being recognized with one of the highest honors in American science."
Joyce, a professor in Salk's Jack H. Skirball Center for Chemical Biology and Proteomics, is a pioneer in the field of in vitro evolution. Many people have heard of DNA as being the code for life, but its single-stranded counterpart, RNA, is just as important in development and disease and likely was the ancestor to DNA during the early history of life on Earth. The field of in vitro evolution seeks to re-create the biomolecules of early life in a test tube and to coax the building blocks of RNA to assemble, replicate and evolve. Although we can't know exactly how the first genetic molecules developed 4 billion years ago, re-creating plausible facsimiles in the lab may give some insight into early evolutionary processes as well as how to design synthetic RNA molecules for therapeutic uses in diseases such as cancer, immune defects and viral infection.
Joyce uses biochemical techniques to explore the potential of RNA to serve as a catalyst in critical reactions and to search for RNA enzymes that have the ability to bring about their own replication. Like their protein counterparts, nucleic acid enzymes have a specific structure that is responsible for their catalytic activity. Unlike proteins, nucleic acids are genetic molecules that can be amplified and mutated in the test tube. Joyce's laboratory has learned to exploit this dual role of nucleic acids to develop RNA- and DNA-based evolving systems that operate entirely in test tubes. They can carry out many "generations" of in vitro evolution, allowing them to evolve nucleic acid enzymes at a much faster pace than in nature. This allows them to devise molecules whose function is to disrupt disease-related pathways.
"I have been a member of the AAAS for nearly 30 years and am honored to be named a AAAS Fellow. The organization is a key voice for the importance of good science in our complex society," says Joyce.
He is one of 396 new members who will be honored during the 2018 AAAS annual meeting on February 17, 2018, in Austin, Texas. The elections bring Salk's current total of AAAS Fellows to 18.
About the American Association for the Advancement of Science (AAAS)
The American Association for the Advancement of Science (AAAS) is the world's largest general scientific society and publisher of the journal Science (www.sciencemag.org) as well as Science Translational Medicine, Science Signaling, a digital, open-access journal, Science Advances, Science Immunology, and Science Robotics. AAAS was founded in 1848 and includes nearly 250 affiliated societies and academies of science, serving 10 million individuals. Science has the largest paid circulation of any peer-reviewed general science journal in the world. The non-profit AAAS (www.aaas.org) is open to all and fulfills its mission to "advance science and serve society" through initiatives in science policy, international programs, science education, public engagement, and more. For the latest research news, log onto EurekAlert! (www.eurekalert.org), the premier science-news Web site, a service of AAAS. See www.aaas.org.
About the Salk Institute for Biological Studies:
Every cure has a starting point. The Salk Institute embodies Jonas Salk's mission to dare to make dreams into reality. Its internationally renowned and award-winning scientists explore the very foundations of life, seeking new understandings in neuroscience, genetics, immunology, plant biology and more. The Institute is an independent nonprofit organization and architectural landmark: small by choice, intimate by nature and fearless in the face of any challenge. Be it cancer or Alzheimer's, aging or diabetes, Salk is where cures begin.