Salk researcher Beverly Emerson named 2015 AAAS Fellow for contributions to science
LA JOLLA—Salk Professor Beverly Emerson has been named a 2015 Fellow of the American Association for the Advancement of Science (AAAS), the world's largest general scientific society. She earned the recognition for her distinguished contributions to the understanding of the mechanisms by which genes are transcriptionally regulated and how these processes can malfunction to cause disease.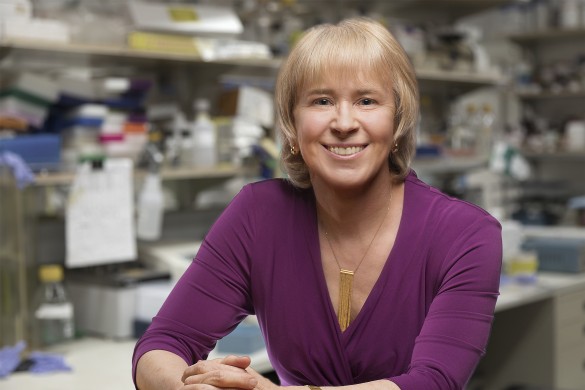 Emerson, a professor in Salk's Regulatory Biology Laboratory and holder of the Edwin K. Hunter Chair, studies how different genes are turned on and off through the course of a cancer—from the time cells become precancerous until the time they develop into a mature cancer and spread to new organs. Many researchers look for genes that are mutated in tumors, as these mistakes in the DNA code can lead to cancer.
Emerson's lab looks at ways genes can be turned on and off to allow a tumor to grow. She has found that the physical arrangement of DNA inside a cell's nucleus can affect cancer genes: for example, if a gene gets stuck in a folded piece of DNA, proteins that normally turn it on can no longer access it. Her lab also studies how different proteins (and their mutations) interact in cancer cells. Looking at cancer genetics in this broader way is helping Emerson to discover new drug targets that may be used to prevent or treat cancers.
This year's AAAS Fellows, 347 in all, will be honored at the Fellows Forum in Washington, D.C. in February.
About American Association for the Advancement of Science (AAAS)
The American Association for the Advancement of Science (AAAS) is the world's largest general scientific society, and publisher of the journal Science (www.sciencemag.org), as well as Science Translational Medicine (www.sciencetranslationalmedicine.org) and Science Signaling (www.sciencesignaling.org). AAAS was founded in 1848, and includes 254 affiliated societies and academies of science, serving 10 million individuals. Science has the largest paid circulation of any peer-reviewed general science journal in the world, with an estimated total readership of 1 million. The non-profit AAAS (www.aaas.org) is open to all and fulfills its mission to "advance science and serve society" through initiatives in science policy, international programs, science education, and more. For the latest research news, log onto EurekAlert!, www.eurekalert.org, the premier science-news Web site, a service of AAAS.