Elizabeth Blackburn, Salk Institute's first female president, honored by TIME as a trailblazing woman
FIRSTS project celebrates "women who broke ground in their fields" and "played pioneers in history"
LA JOLLA—Salk Institute President Elizabeth Blackburn—the Institute's first female president and one of only 12 women to have won a Nobel Prize in Physiology or Medicine—is among 46 honorees featured in FIRSTS, a new TIME multimedia project celebrating "women who broke ground in their fields" and "played pioneers in history," the Salk Institute announced today.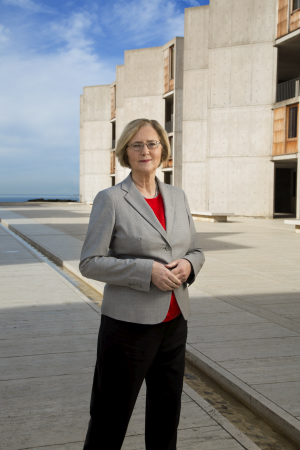 "Our goal with this extraordinary project…is for every woman and girl to find someone who moves her, to find someone whose presence in the highest reaches of success says to her that it is safe to climb, come on up, the view is spectacular," said TIME managing editor Nancy Gibbs. "[These women] were candid about their challenges, aware of their responsibilities, eager to tell their stories that will surprise and inspire. We hope everyone, at every life stage, will encounter an insight here that will open a door to new ambitions."
A champion of women in science throughout her distinguished career, Blackburn has led Salk since January 2016 as its first female president. She won the Nobel Prize in Physiology or Medicine in 2009 for discovering the molecular nature of telomeres, the ends of chromosomes that serve as protective caps essential for preserving genetic information, and for co-discovering telomerase, an enzyme that maintains telomere ends. She also has received nearly every major award in science including the Lasker, Gruber and Gairdner prizes. Helping to guide public science policy, she was a member of the Stem Cell Research Advisory Panel for the California State Legislature and is a regular participant in the World Economic Forum.
The FIRSTS project will be included in the September 18, 2017 issue of TIME, available at newsstands on September 8. The entire project, which includes interviews, videos, portraits and a soon-to-be-published book, is available online at www.time.com/firsts, with Blackburn's video available at http://time.com/collection/firsts/4898593/elizabeth-blackburn-firsts.
For more information on Blackburn and the FIRSTS project, please contact the Salk Communications Office at press@salk.edu.