Salk physician-scientist Jesse Dixon named Rita Allen Foundation Award Scholar
LA JOLLA—Salk Institute physician-scientist Jesse Dixon has been named a Rita Allen Foundation Award Scholar, a distinction given to biomedical scientists whose research holds exceptional promise for revealing new pathways to advance human health.
"We are honored and thrilled Jesse has been named a 2023 Rita Allen Foundation Award Scholar," says Salk Institute President Gerald Joyce. "His exceptional talent, dedication, and unwavering pursuit of scientific excellence make him a deserving recipient of this award."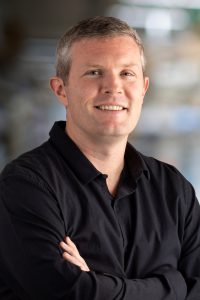 Dixon was one of nine scientists the Rita Allen Foundation named to its 2023 class of Rita Allen Foundation Scholars. The selected scholars will receive grants of up to $110,000 annually for a maximum of five years to conduct innovative research on critical topics in cancer, immunology, neuroscience, and pain.
Dixon and the other scholars were chosen for their bold approaches to basic scientific questions that address problems of global concern, as well as their potential for learning, leadership, and collaboration.
He studies how genomes are organized in 3D space inside of cells, and how errors in genome folding can lead to human diseases, such as cancer. His team recently discovered genetic changes that alter 3D genome folding and lead to activation of cancer-promoting genes. Their findings could lead to improved ways of predicting and treating cancer.
"The scientists selected to join the Class of 2023 are asking bold questions and pioneering new approaches to understand the body's vast and vital processes—research that informs strategies to prevent and treat diseases," says Elizabeth Christopherson, president and chief executive officer of the Rita Allen Foundation.
Dixon earned his bachelor's degree in molecular biology from Princeton University and his MD and PhD in biomedical sciences from UC San Diego. He was a 2022 Highly Cited Researcher and received the NIH Early Independence Award, among other accolades.
About the Rita Allen Foundation:
The Rita Allen Foundation invests in transformative ideas in their earliest stages to leverage their growth and promote breakthrough solutions to significant problems. It enables early-career biomedical scholars to do pioneering research, seeds innovative approaches to fostering informed civic engagement, and develops knowledge and networks to build the effectiveness of the philanthropic sector. Throughout its work, the Foundation embraces collaboration, creativity, learning, and leadership.