Salk Institute mourns the loss of Françoise Gilot
The art icon, author, and wife of Institute founder Jonas Salk died June 6 at the age of 101
LA JOLLA—Françoise Gilot, artist, best-selling author, and wife of the late Salk Institute founder and vaccine pioneer Jonas Salk, died on June 6 at a hospital in Manhattan at the age of 101.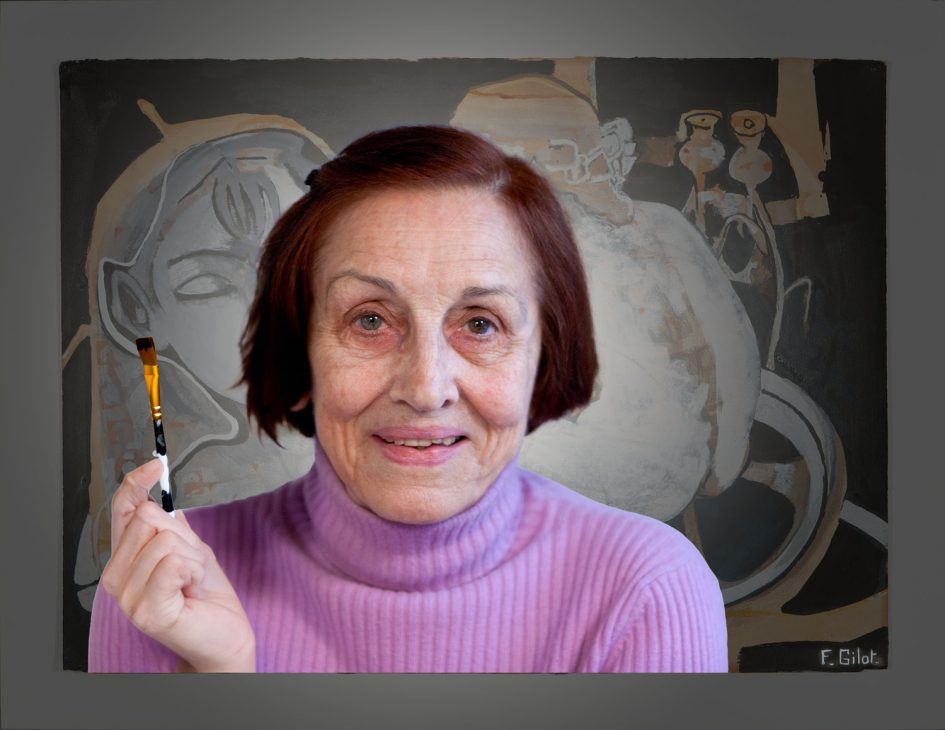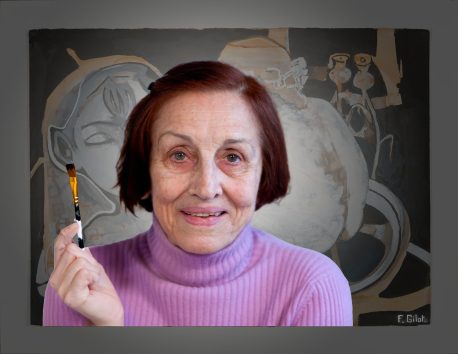 "Françoise Gilot has been truly inspirational to all of us at Salk, to Jonas during his life, and to our entire community through her involvement with Symphony at Salk and many other Salk undertakings," says Salk President Gerald Joyce. "Her artistic genius can be seen on display around campus through the many pieces of art she donated to us. While we grieve her death, we celebrate Françoise's spirit as we reflect on her art and her commitment to the Salk Institute."
Gilot was well known for her fascination with architecture and a lifelong interest in science. Her love of architecture led Gilot to visit the Institute's campus in 1969, where Jonas Salk personally led her tour. They were married in 1970 and remained wed until Salk's death in 1995.
Their union perfectly captured the core institutional belief that there is an inextricable link between art and science. The Salk Institute has been the proud and grateful steward of this value in many ways, most popularly and notably in the contributions Gilot's art has made to the depth and creative energy around the Institute. Further, a $10 million gift from Ferring Pharmaceuticals was used to establish the Françoise Gilot-Salk Chair at the Institute. The chair is still held by its inaugural appointee, Professor Greg Lemke.
"It has been my tremendous honor to hold Gilot's namesake chair for all these years," says Lemke. "In many ways, she has been the heart of the Salk Institute. We all will miss her spirit and contributions."
By the late 1960s, when she met Salk, Gilot was already an internationally recognized artist and bestselling author. Although she graduated from the Sorbonne in 1938 with a bachelor's in philosophy, Gilot abandoned her graduate studies in international law in the early 1940s to devote herself to painting. In 1943, at just 21, she had her first exhibition. During the 1940s and 1950s she developed strong friendships with the legendary artists of the time, including Matisse, Braque, and Cocteau. In the summer of 1958, Gilot embarked on a new series of canvases, a decision that is considered central to her development as an artist. Deftly composing space with color planes rather than linear perspective, Gilot created an organic, structural rhythm that reflected her concerns for simplicity and tone-color coordination.
Gilot was born in France on November 26, 1921, in the Parisian suburb of Neuilly-sur-Seine. Prior to meeting Salk, she had a well-known 11-year partnership with fellow artist Pablo Picasso, then 40 years her senior, with whom she had two children, Claude and Paloma. Gilot's youngest daughter, Aurelia, was born during Gilot's marriage to French artist Luc Simon. After marrying Salk, Gilot maintained studios in New York, Paris, and California. The studios served as a vital international presence in art circles and the scientific community for 25 years. Although Gilot returned to New York following Salk's death in 1995, she graciously continued to serve as Honorary Chair of Symphony at Salk, the Institute's premier annual fundraising event, each year since its inauguration in 1996. She also contributed original pieces of art that have served as backdrops for each concert under the stars.
Gilot is survived by her three children, Claude, Paloma, and Aurelia, as well as four grandchildren.