The Salk Institute and Indivumed partner to advance global cancer research
Salk and Indivumed have established a strategic partnership to advance research in precision oncology and personalized medicine by utilizing the highest quality molecular and clinical data in cancer
LA JOLLA—The Salk Institute, which hosts a National Cancer Institute (NCI)–designated cancer center and Indivumed GmbH, a world leading cancer research company today announce a multi-year strategic alliance to secure, preserve and analyze human cancer tissue and annotated clinical data from consenting patients around the world, enabling the most cutting-edge basic and translational research in cancer.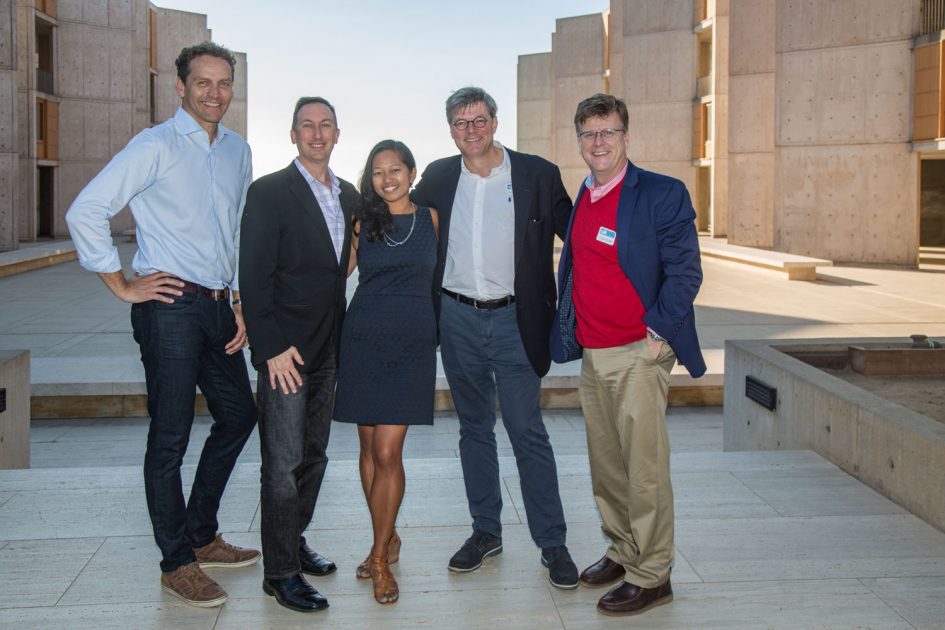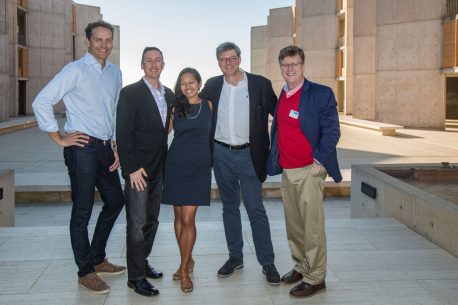 "Over the past 30 years, researchers at the Salk Cancer Center have made some of the most important contributions to the fundamental understanding of cancer," stated Hartmut Juhl, Founder and CEO of Indivumed. "The opportunity for Indivumed to partner with the Salk Cancer Center is an honor which is among the most meaningful of Indivumed's accomplishments over its fifteen (15) year history." Juhl went on to say, "I have dedicated my professional life to pursuing research excellence and providing the assets and resources necessary to advance our understanding of cancer on an individual basis. The bedrock to the most impactful research is comprised of pristine and unbiased data. The combination of Indivumed's molecular and phenotypic data sets with cutting edge basic and translation research coined within the Salk Cancer Center will combine to create one of the world's most unique research engines."
Reuben Shaw, PhD, Director of the Salk Cancer Center and world renowned cancer researcher described the potential for the Indivumed collaboration as "one of the most exciting partnerships we are pursuing." Shaw went on to say, "gene expression, metabolite, and protein modification are difficult – if not impossible – to compare if biospecimens have not been collected and corresponding data have not been documented in a consistent manner. Indivumed's controlled and rapid tissue processing will help delineate important biological differences between patient tumors." Shaw continued, "providing our researchers with this type of platinum research resource will have a transformational impact on our research and ultimately our understanding of cancer."
Salk and Indivumed have signed agreements, for which the financial terms were not disclosed, that provide for the following: 1) Indivumed shall provided dedicated resources to assist Salk Cancer Center researchers in planning for and acquiring the appropriate annotated cancer biospecimens to support specific basic and translational research projects; 2) The Salk Cancer Center and Indivumed will develop a portfolio of collaborative research projects, where both organizations will contribute resources and effort to advance shared research interests and the development of a global cancer database of molecular and phenotypic data sets.
"Our mission at Salk is to ignite a fuse that will catalyze basic and translational science, and our researchers create the foundation on which clinical innovation is built," said Salk President Elizabeth Blackburn. "We feel very fortunate to partner with Indivumed to forge together the research that will unravel the molecular secrets of cancer."
About the Salk NCI–Designated Cancer Center:
The Cancer Center was established at the Salk Institute in 1970. It is a basic research National Cancer Institute (NCI)-designated Cancer Center. The Director is Reuben Shaw. The Cancer Center comprises about half of the research at the Salk Institute. The center includes 30 faculty members, 199 postdoctoral researchers, 41 graduate students and 101 research assistants. A Cancer Center Support (Core) Grant from the National Cancer Institute helps support many shared resources at the Salk Institute, including shared equipment, bioinformatics, functional genomics/quantitative PCR, proteomics, cytometry, imaging, peptide synthesis, transgenic facilities, and viral vector production.
In March 2013 the Salk Institute Cancer Center joined the NCI-designated UCSD Moores Cancer Center and the NCI-designated Sanford Burnham Cancer Center to form the San Diego National Cancer Institute Cancer Centers Council (SD NCI C3). This novel collaboration will allow all three centers to leverage their distinct and combined resources and talents. For more information, please visit www.salk.edu/science/research-centers/nci-cancer-center/
About Indivumed GmbH:
INDIVUMED an ISO certified global oncology research company based in Hamburg, Germany, has established the world's leading Cancer Database and biobank, retaining unique patterns of biomolecules such as RNA, DNA, and proteins as they existed in the human body. This Cancer Database makes possible multi-omics capabilities that will allow for characterization of samples and data such as whole genome gene expression analysis, expression analysis of cancer relevant proteins, expression analysis of cancer relevant phosphoproteins and bioinformatic solutions for integrating molecular, biological and clinical information.
Indivumed's products and services allow for in-depth understanding of the underlying mechanisms of a patient's cancer, addressing important demands in translational research and molecular diagnostics to support implementation of personalized healthcare. For more information, please visit www.indivumed.com
About the Salk Institute for Biological Studies:
Every cure has a starting point. The Salk Institute embodies Jonas Salk's mission to dare to make dreams into reality. Its internationally renowned and award-winning scientists explore the very foundations of life, seeking new understandings in neuroscience, genetics, immunology, plant biology and more. The Institute is an independent nonprofit organization and architectural landmark: small by choice, intimate by nature and fearless in the face of any challenge. Be it cancer or Alzheimer's, aging or diabetes, Salk is where cures begin. Learn more at: salk.edu.