Nicola Allen receives $2.5 million Chan Zuckerberg Initiative early career award
LA JOLLA—Nicola Allen, an assistant professor in Salk's Molecular Neurobiology Laboratory, has received a five-year, $2.5 million Ben Barres Early Career Acceleration Award from the Chan Zuckerberg Initiative (CZI), as part of a $51.95 million effort launching the CZI Neurodegeneration Challenge Network. This new network brings together experimental scientists from diverse research fields—neuroscience, cell biology, biochemistry, immunology and genomics—along with computational biologists and physicians, to understand the underlying causes of disorders such as Alzheimer's, Parkinson's, Huntington's disease and ALS.
As part of the network's effort to understand the fundamental biology of what causes these diseases and how they progress, Allen will study the role of brain cells called astrocytes. These star-shaped support cells have recently been identified as being critical for the health of the brain, and more insight into their activities could reveal details into potential causes—and treatments—for dementia.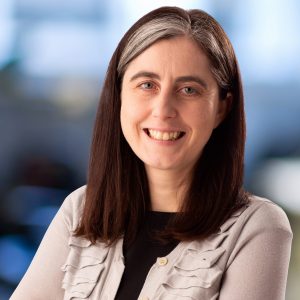 "Nicola's expertise is bringing much-needed attention to astrocytes as important players in brain development and function," says Salk President and neuroscientist Rusty Gage. "Alzheimer's disease and other neurodegenerative disorders are devastating to society. With support from efforts like the Chan Zuckerberg Initiative, we are hopeful that real progress in uncovering the mechanisms of these diseases, and potential targets for therapies, are finally within reach."
Neurodegenerative disorders, including Alzheimer's, Parkinson's, Huntington's disease, and ALS are a class of diseases that affect millions of people worldwide. Alzheimer's disease alone is the fifth-most-common cause of death for Americans above age 65, and the number of people with Alzheimer's and related dementias is predicted to nearly triple—from 5 million people to 14 million people—by 2060. Meanwhile, the causes of most neurodegenerative diseases are only partly understood, and there are still no effective therapies to cure, prevent, or even treat most of these disorders.
"Despite tremendous investment and progress in understanding these diseases, there remains a surprising amount of very basic information about their biology that we don't know," says CZI Science Program Officer Katja Brose. "By supporting these interdisciplinary collaborations and generating shared tools, resources and platforms, we hope to inspire a new approach to tackling neurodegenerative disease—one that leverages the combined power of basic science and technology to accelerate progress towards clinical goals."
As one approach to understanding neurodegeneration, Allen dives into how astrocytes influence neuronal connections with the aim of developing novel ways to repair damaged connections to improve cognition and memory. She recently discovered that a protein made by astrocytes enables the brain's maturation and regulates its flexibility (Neuron, October 2018) as well as how genes switched on early in brain development to trim neural connections are again activated in aging astrocytes (Cell Reports, January 2018). Prior to that, she revealed in Neuron last year how astrocytes help neurons form successful connections. Allen is also part of a newly launched $19.2 million effort from the American Heart Association-Allen Initiative supporting 10 Salk labs to undertake a comprehensive, multidisciplinary investigation of the mechanisms underlying Alzheimer's disease and aging-related cognitive decline.
About the Chan Zuckerberg Initiative:
The Chan Zuckerberg Initiative was launched in December 2015 by Mark Zuckerberg, founder and CEO of Facebook, and Priscilla Chan, a pediatrician and founder and CEO of The Primary School in East Palo Alto. The Chan Zuckerberg Initiative is a new kind of philanthropy that seeks to engineer change at scale. By pairing world-class engineering with grant-making, impact investing, policy and advocacy work, CZI hopes to build a future for everyone. Initial areas of focus include supporting science through basic biomedical research and education through personalized learning. CZI is also exploring ways to address barriers to justice and opportunity—from criminal justice reform, to expanded access, to economic opportunity and affordable housing.
About the Ben Barres Early Career Acceleration Awards:
CZI's Ben Barres Early Career Acceleration Awards, named for the late Ben Barres, an American neurobiologist and fierce advocate for young scientists, women, mentorship and diversity in science, will support early career academic investigators — especially those who are new to the field of neurodegeneration. CZI is awarding a total of $42.5 million for these awards. Each of the 17 selected investigators will receive $2.5 million, as well as benefit from the scientific and professional mentorship and collaborative support of the Challenge Network.