Salk scientist Ronald Evans named 2018 AAAS Fellow
LA JOLLA—Salk Professor and Howard Hughes Medical Investigator Ronald Evans, who is also director of Salk's Gene Expression Laboratory, has been a named a 2018 Fellow of the American Association for the Advancement of Science (AAAS), the world's largest general scientific society. In particular, the AAAS acknowledges his discoveries on steroid and orphan receptor signaling, revealing a "treasure trove" of both known and novel branches of physiology, metabolism and disease, according to the citation.
"Ron's discovery of nuclear hormone receptors was a watershed for the field of endocrinology and has opened up entirely new avenues for developing therapies for a host of metabolic diseases," says Salk President Rusty Gage. "We are proud to celebrate his well-earned induction as an AAAS Fellow, one of science's most prestigious honors."
Nuclear hormone receptors comprise a large family of molecules that respond to various steroid hormones, vitamin A and thyroid hormones. These hormones help control sugar, salt, calcium and fat metabolism, affecting our daily health, as well as treatment of disease. The receptors Evans discovered are primary targets in the treatment of breast cancer, prostate cancer, pancreatic cancer and leukemia, as well as osteoporosis and asthma.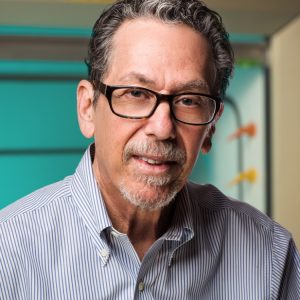 Recently, Evans' lab discovered that a chemically modified form of vitamin D might offer a new approach to the treatment of pancreatic cancer, a notoriously deadly cancer. The lab found that the vitamin D drug known as paricalcitol breaks down the shell around pancreatic cancer, making tumor cells vulnerable to chemotherapy and more sensitive to the body's immune system. The therapeutic potential of this drug in combination with others known as immune checkpoint inhibitors is now being tested in three clinical trials.
In addition, Evans' studies led to the development of a new class of drugs to the hormone receptor PPAR delta. These drugs, also known as exercise mimetics, promote the benefits of fitness without the need to train. In terms of therapy, exercise mimetics could help treat problems arising from excess weight and obesity, such as frailty, muscular dystrophy and type 2 diabetes.
"It is deeply gratifying to be recognized by my peers and AAAS, an organization which has been part of my identity as a scientist for most of my life now," says Evans, who holds the March of Dimes Chair in Molecular and Developmental Biology at Salk.
He is one of 416 new members who will be honored during the AAAS annual meeting on February 16, 2019, in Washington, DC. The elections bring Salk's current total of AAAS Fellows to 19.
About the American Association for the Advancement of Science:
The American Association for the Advancement of Science (AAAS) is the world's largest general scientific society and publisher of the journal Science (www.sciencemag.org) as well as Science Translational Medicine, Science Signaling, Science Advances, Science Immunology, and Science Robotics. AAAS was founded in 1848 and includes nearly 250 affiliated societies and academies of science, serving 10 million individuals. Science has the largest paid circulation of any peer-reviewed general science journal in the world. The nonprofit AAAS (www.aaas.org) is open to all and fulfills its mission to "advance science and serve society" through initiatives in science policy, international programs, science education, public engagement and more. For the latest research news, log onto EurekAlert! (www.eurekalert.org), the premier science-news website, a service of AAAS. See www.aaas.org.