Salk mourns the loss of postgrad alumnus
Daniel Lackner, a former Salk postdoctoral fellow who worked in the lab of Jan Karlseder from 2008 to 2014, passed away August 31 from complications related to a rare teratoid tumor.
"Sometimes we have the privilege to meet extraordinary people in our careers. Daniel was one of those. He was an amazingly creative scientist, a wonderfully generous person, a loving father to his sons and husband to his wife and a true friend. I am honored to have known Dan and miss him greatly," Karlseder says.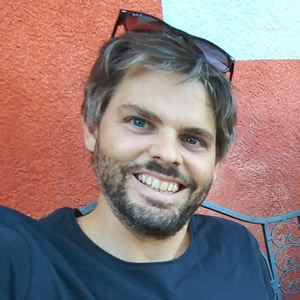 Lackner received his PhD from the University of Cambridge, in the United Kingdom, focusing on transcriptional and translational analysis of the S. pombe (a yeast) genome.
He came to Salk for his postdoctoral fellowship in 2008, where he studied telomere biology and aging as a postdoc in the Karlseder Lab. He made several achievements of note during this time, including:
– Engineering a Caenorhabditis elegans (roundworm) strain that survives without telomerase, thereby demonstrating that a multicellular organism can exist, where telomeres are only maintained by recombination
– Defining genome-wide signatures to distinguish between replicative senescence, damage induced senescence, the acute and sustained DNA damage response
– Establishing the sea anemone Nematostella vectensis as model for telomere biology
"Daniel was one of the most fun-loving, kind-hearted and warm people I've had the good fortune to call a friend," says Robert Radford, Research Associate in the Karlseder lab. "His bright outlook on everything spread to everyone who came in contact with him. His friendship meant a lot to many of us here at the Salk Institute and his memory will stay with us."
After Salk, Lackner worked at Horizon Discovery in Vienna, Austria, where he led a team that generated haploid knockout cell lines for research, using CRISPR/Cas9 approaches.
He then became independent scientific project manager at the Center for Molecular Medicine of the Austrian Academy of Sciences, working directly with the director of that institution. He used his widespread scientific knowledge and remarkable interpersonal skills to successfully coordinate thirteen EU-wide partnerships between academics and industry to connect scientists with very different backgrounds.
Lackner is survived by his wife, Sofia, also a Salk alumnus, who worked with former Assistant Professor Leanne Jones in the Laboratory of Genetics, and their two, young sons, Leonidas and Odysseas.
What other former colleagues say about Daniel Lackner:
"Daniel was a top guy with a great sense of fun and humor. We spent several late, late nights out in Pacific Beach, at Aero Club, or just visiting after dinner and discussed all sorts of local and worldly things. In his approach to science he was thoughtful and always asked the dreaded challenging questions in lab meeting, always looking for another angle. But more than anything, he was such a proud and wonderful father – he really thrived in the roll. He will be sorely missed, but remembered fondly." – Roddy O'Sullivan, former Salk postdoc, current assistant professor, Pittsburgh Cancer Center
"I only know Daniel from my 3-month internship in 2012. However, even in this short period of time, he made a lasting impression on me. I remember his positive energy, creativity and his general deep curiosity. I was especially intrigued by his attempt to establish a sea anemone as a model system for aging. It is all very sad." – Tobias Schmidt, Salk postdoctoral fellow, Karlseder Lab
"I don't have enough words to describe how wonderful he was. I just would like to say that his cute character and his big heart made him a great lab mate but also a very special friend. We are all very thankful for having crossed paths with him. We will always remember his optimism and positive energy and all the good times we shared at his side." – Teresa Rivera, former Salk postdoc, and current staff scientist, Allele Biotechnology and Pharmaceuticals, San Diego
"You will be greatly missed, Daniel. I cannot thank you enough your help and kindness when I first arrived in San Diego. Your positive energy and drive are inspiring to all of us. All my love to you." – Javier Miralles Fusté, Salk postdoctoral fellow, Karlseder Lab
"I feel blessed to have known Daniel. We sat side-by-side for five years; we shared a bay together, witnessed each other's life-changing moments—marriage and children. He made science fun, and there wasn't a day we didn't laugh together. He was an adoring husband and father, an amazing photographer (I will cherish some of his photography forever!), a wonderful human and a dear friend. He was well-liked and saw the good in everyone. He was a silver lining kind of guy. I will miss him dearly and miss our boys playing together. My heart goes out to Sofia and the boys; what a gut-wrenching loss…May they find solace in each other and in knowing how loved Daniel was by all who were lucky enough to have come across him." – Liana Oganesian, former Salk postdoc