Richard Murphy, former Salk Institute president and CEO, dies at 77
Murphy led the Institute from 2000 to 2007
LA JOLLA—The Salk Institute mourns the loss of Richard "Rich" Murphy, who died March 24, 2022, in La Quinta, California at the age of 77. Murphy served as the Institute's president and CEO from 2000 to 2007.
During his tenure, Murphy led the renovation of nearly a third of Salk's research space and the hiring of 16 new investigators to strengthen the Institute's cancer, plant biology and gene regulation research programs. With the support of $160 million in philanthropic funds raised during Murphy's term, the Institute also established new research groups in chemistry and computational and theoretical biology, and core facilities for mass spectrometry, nuclear magnetic imaging and stem cell research.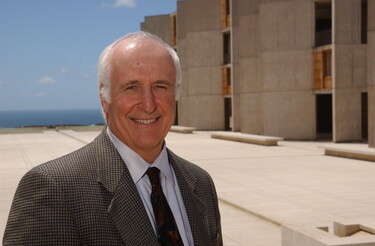 Before his retirement, Murphy's research focused on proteins called neurotrophins, which are produced by cells in the brain and the peripheral nervous system. Neurotrophins promote the growth and survival of nerve cells, and they induce structural and chemical changes in brain synapses that may play a role in memory.
Murphy was born May 20, 1944, in Revere, Massachusetts. He earned his AB from Holy Cross College in 1966; MS from Northeastern University in 1970; and PhD from Rutgers University in 1974. Murphy began his career as a researcher and award-winning teacher at Harvard Medical School (1974 to 1986). In 1986 he and his family moved to Edmonton, Alberta, where he joined the University of Alberta's Medical Faculty as chair of the Department of Anatomy and Cell Biology (1986 to 1992). He then became director of the Montreal Neurological Institute at McGill University (1992 to 2000); president and CEO of the Salk Institute (2000 to 2007); and interim president of the California Institute for Regenerative Medicine (2007 to 2008).
According to his family, Murphy touched the lives of many over his career. He was widely admired for his integrity and his generosity as a mentor to the many students and faculty members in his charge. He was also known for his clever humor. His passions in life were his family, his love for science, boating on Lake Sunapee in New Hampshire and the game of golf.
Murphy leaves his wife of 53 years, Elaine Murphy (née Finnegan) and their three children and their families: daughter Janet Murphy, MD, her husband Devin Advani and their sons Nick and Adam of Arlington, Massachusetts; son Mark Murphy, his wife Glyncora and their daughter Lily of New York City, New York; and Alison Murphy, her husband Jeremy Byrgesen and their son Jack of North Vancouver, British Columbia. He also leaves two brothers and their families: Ken Murphy, MD and his wife Rosemary of Freeport, Maine; and Mike Murphy and his partner Cheryl of North Conway, NH.
A private memorial celebration is being planned for Murphy in Boston later in spring. Donations in his memory are welcome either to the American Brain Tumor Association (bit.ly/DonateABTA) or to the Francis Ouimet Scholarship Fund (www.ouimet.org), which awards need-based college scholarships to deserving young men and women who have worked at Massachusetts golf courses.