Mourning the loss of one of our colleagues
It is with heartfelt sorrow that we inform you of the death of a member of the Salk community, Swati Tyagi, PhD. Swati, a postdoctoral researcher in the Hetzer lab, was tragically killed yesterday when a person in a car struck her from behind while she was riding her bike. We offer our deepest condolences to her family, friends and coworkers at this difficult time.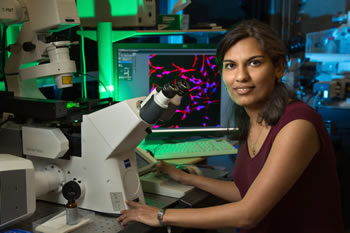 "The shock and pain from Swati's sudden passing is raw and deep. We are struggling to process this heartbreaking news," said Martin Hetzer, VP, CSO. "Swati was a rising star with immense intelligence, noble modesty and boundless generosity."
An accomplished scientist who joined Salk in 2016 as a research associate, Swati received numerous recognitions for her outstanding work and was a recipient of the 2017 Salk Women & Science Special Award. Her most recent paper, "High-precision mapping of nuclear pore-chromatin interactions reveals new principles of genome organization at the nuclear envelope," was shared with the scientific community in May 2021.
"Her love and talent for science inspired us all," said Martin. "We are now called on to retain and safeguard her legacy—for her young son, her husband and family, and the scientific community."
Swati is survived by her husband, Ashim Rai, and her 11-month-old son, Miransh.
UPDATE June 29, 2021—A GoFundMe page has been created to provide interested individuals with a way to help Swati's family with a financial gift of support to help with their immediate needs. All donations to this page will be provided directly to Ashim Rai, Swati's husband.