Salk Medal for Research Excellence
---
ROBERT A. WEINBERG, PhD
Wednesday, April 13 – 2:30 p.m.
Conrad T. Prebys Auditorium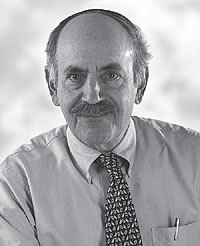 ROBERT A. WEINBERG, PhD
Whitehead Institute for Biomedical Research
Cambridge, Massachusetts
Talk title: EMT, Cancer Stem Cells and the Mechanisms of
Malignant Progression
An internationally recognized authority on the genetic basis of human cancer, Robert A. Weinberg is a founding member of the Whitehead Institute for Biomedical Research and the Daniel K. Ludwig Professor for Cancer Research at the Massachusetts Institute of Technology (MIT). In 1992, he earned the Gairdner Foundation International Award for
Achievements in Medical Science. He is also a recipient of the National Medal of Science, the Wolf Prize and the Breakthrough Prize in Life Sciences. He is the first Director of the Ludwig Cancer Center at MIT. Over the past three decades, Weinberg has made breakthrough discoveries in the molecular and genetic roots of cancers. His lab discovered the first oncogene in 1982 and the first tumor suppressor gene in 1986. Most recently, Weinberg and his colleagues were the first to define the genetic hallmarks that a normal human cell must acquire to be transformed into a human cancer cell.
"I am delighted that Robert Weinberg is being awarded the Salk Medal, not only because of his incredible scientific contributions, but also because he has roots with the Institute as a postdoctoral researcher in Renato Dulbecco's lab in the early 1970's."
—Inder Verma, professor in the Laboratory of Genetics at Salk and a member of the medal selection committee
SOLOMON H. SNYDER, MD, DSc, DPhil
Wednesday, April 13 – 4:00 p.m.
Conrad T. Prebys Auditorium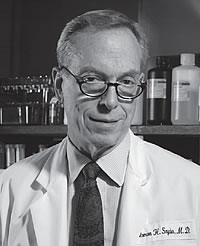 SOLOMON H. SNYDER, MD, DSc, DPhil
Distinguished Service Professor of Neuroscience
Pharmacology and Psychiatry at Johns Hopkins University School of Medicine
Talk title: Novel Neural Messengers
Solomon H. Snyder, a member of the US National Academy of Sciences, is regarded internationally for his research on neuropharmacology, seeking the cellular mechanisms by which neurotransmitters and drugs alter brain function. In the early 1970s, he discovered the brain's opiate receptors and is credited with launching a generation of research into neuropeptides, receptors and behavior. He is the recipient of the Albert Lasker Award for Basic Medical Research, the Wolf Prize, the Bower Award, the National Medal of Science and the Albany Medical Center Prize in Medicine and Biomedical Research.
A graduate of Georgetown University, Snyder is the Distinguished Service Professor of Neuroscience, Pharmacology and Psychiatry at Johns Hopkins University School of Medicine. In 1980, he founded the Department of Neuroscience, serving as its director until 2006 when the department was renamed in his honor. He helped start the companies Nova Pharmaceuticals and Guilford Pharmaceuticals, and is the Director of Drug Discovery at the Lieber Institute for Brain Development in Baltimore, MD.
"Sol Snyder is one of the giants of modern neuroscience. His work has defined the basic pharmacology of most of the brain's neurotransmitters, their receptors, and their transporters, and has been translated into important therapeutics. If you've benefited from selective serotonin reuptake inhibitors such as Prozac, you can thank Sol."
—Greg Lemke, professor in the Molecular Neurobiology Laboratory at Salk and a member of the medal selection committee