Bench-to-Bedside-to-Bench Seminar Series
---
Launching: New Bench-to-Bedside-to-Bench Seminar Series
The Salk Cancer Center launches its new Bench-to-Bedside-to-Bench Seminar Series on August 20, 2020. This virtual event will be the first of a biannual seminar series connecting researchers at Salk with clinicians who will share insights about clinical care and the patient's perspective on the cancer journey. The event is open to outside organizations and students at UC San Diego. Researchers and clinicians from the entire San Diego Mesa area are invited to attend. The August 20 inaugural program will feature Dr. Eric Collisson from UC San Francisco Helen Diller Comprehensive Cancer Center and will be attended by Salk cancer researchers from a variety of disciplines, including biology, chemistry, physics, computation and medicine.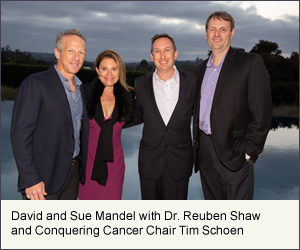 On a recent site visit, the National Cancer Institute (NCI) lauded Salk for its existing clinical ties and urged leadership to strengthen them further, especially with other NCI cancer centers. NCI recommended creating a forum to promote education and bring together clinicians and basic and translational investigators to encourage working groups and other interactions. The Bench-to-Bedside-to-Bench Seminar will serve as a catalyst for clinicians to learn about ongoing discoveries from the lab (the "bench"), and for researchers to understand what treatment exists and learn what oncologists and patients go through (the "bedside"). Dr. Reuben Shaw, Salk Cancer Center director shares, "The goal is to leverage research into transformative treatments for patients. Scientists in a laboratory may not have regular interaction with clinicians and patients, so this series provides an opportunity for them to hear the latest on rapidly evolving treatments for different subsets of cancer. We are grateful to supporters of the Conquering Cancer Initiative and Susan and David Mandel for their dedication to helping us launch this new program."
Susan and David Mandel are both very involved with the Salk Institute, with Susan serving as a member of the Conquering Cancer Advisory Committee and David serving as a member of the Harnessing Plants Initiative Advisory Committee.
Susan, particularly, knows from firsthand experience the importance of patient access and of understanding clinical trials and research. Her late-husband, Larry Pidgeon, was diagnosed with cancer in June 2012 and passed away in 2013. Susan shares, "One of Salk's missions is to bring discoveries to the clinic to help patients. The collective knowledge creates a powerful collaboration between healthcare providers and scientists dedicated to cancer research. We feel it's critical to create partnerships that increase research and understanding for new treatments, with the patient at the heart of this important work."
For more information about the new Bench-to-Bedside-to-Bench Seminar, please contact Sandy Liarakos at sliarakos@salk.edu.
For the past 45 years, the Salk Institute has maintained its NCI designation as one of only seven basic cancer research centers in the United States. This designation recognizes the Institute's scientific rigor across its laboratory research, scientific discoveries and therapeutic cures.