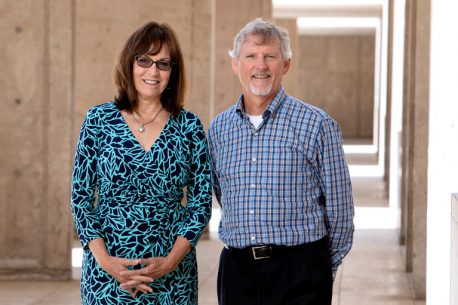 "We look for organizations that can make life better for the people they support," says Dean Dwyer, president and CEO of the David C. Copley Foundation.
That charge is what Dwyer has sought to fulfill over the last six years in his position, and it is why the foundation has contributed over $570,000 to the Salk Institute, dating back to the first gift of $250 in 1974, for the purchase of a minicomputer.
"The Salk Institute's work is recognized around the world," says Dwyer, a longtime resident of San Diego. "The scientists there are trying to make a difference, and that's exactly what we try to achieve with our grant awards as well."
The Copley Foundation began in 1953 and was initially funded by The Copley Press Inc., owner of multiple newspapers in California, Illinois and Ohio. Prominent San Diego businessman and philanthropist David Copley, son of Helen K. and James S. Copley, left his estate to the Foundation when he passed away in 2012. Since that time, the Foundation's leadership has striven to honor the Copley family's legacy of generosity.
Last year, the Copley Foundation provided support to over 125 organizations in San Diego, with a concentration on medical services and research, military and human services, education, culture and the arts.
"The scientists there are trying to make a difference, and that's exactly what we try to achieve with our grant awards as well."
After identifying pancreatic cancer as an area of medical research in need of support, the Copley Foundation provided significant support to the Institute's Conquering Cancer Initiative. This effort combines cutting-edge biological research with advanced biomedical technologies to overcome hard-to-kill tumors in five deadly forms of cancer: breast (triple negative), brain (glioblastoma), pancreatic, lung and ovarian. The initiative focuses on supporting early-stage cancer research projects that show significant promise for major breakthroughs but may not be able to attract funding from traditional sources.
The Foundation most recently donated $150,000 to the Institute's Gene Expression Laboratory, led by Salk Professor Ronald Evans, who is making critical strides in pancreatic cancer research."
We've been very impressed with the work Ron is doing and the incredible discoveries being made in many of the labs at Salk," Dwyer says. "We hope for a cure or to at least make it a more treatable disease, like other forms of cancer. We're confident Salk can make this a reality, as the future looks very promising on that front."
"The Copley Foundation has also supported Symphony at Salk, knowing how much this event meant personally to David," says COO Kim Koch.