Addressing a Warming Planet
---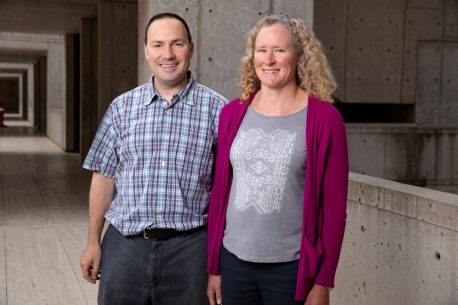 "Read this! Read this!" Eric Ross exclaimed to his wife, pointing to an April 16, 2019, article in The San Diego Union-Tribune.
Nicole MacNeel read with interest the story that had caught her husband's attention: an announcement that through The Audacious Project, which is housed at TED, the Salk Institute would receive $35 million for its Harnessing Plants Initiative, an effort to combat climate change using plants. The Salk Institute's bold approach aims to develop plants with a greater ability to capture and store carbon to offset the devastating effects of increased carbon dioxide levels in the atmosphere.
"It definitely struck a nerve," says Ross, describing the effect the article had on him. He and MacNeel had been looking for a way to make a difference when it came to the impact of climate change, and Salk's initiative piqued their interest.
The news article served as a springboard, leading Ross to scour the web to read all other press coverage he could find about the award; he also read everything about the Harnessing Plants Initiative on the Institute's website. Ross learned about the Salk team's efforts to understand and improve a few genetic pathways in plants to produce plants with bigger, more robust root systems that can absorb larger amounts of atmospheric carbon, burying it in the ground in the form of suberin (a naturally occurring carbon-rich substance found in plant roots that resists decomposition and enriches the soil).
Convinced that the science was promising and could potentially hold a key to mitigating the damaging effects of climate change, the couple, who live in Carlsbad, California, with their 8-year-old son and 6-year-old daughter, were driven to support the initiative with a gift of $40,000 followed by a gift of$10,000.
"If you care about human health, biodiversity, or any other issue really, you should care about the effects of climate change," Ross says.
"I had thought of Salk more for its biological and medical advances, so it was really surprising to find they are also leading the way on climate change, an issue we are so passionate about," MacNeel says.
MacNeel, formerly a process engineer at a local biotech company, and Ross, a software designer and developer, are no strangers to philanthropy. They have supported causes and charities benefiting global health and the environment for years and say they will continue to do so.
"Giving is important to support technologies that are underfunded to improve the world around us," MacNeel says.
"We all have an obligation to improve the world," Ross adds. "We have children, and we have to think of the world we are leaving them. Helping to make the world a better place is my objective and what philanthropy should be about."
"If you care about human health, biodiversity, or any other issue really, you should care about the effects of climate change."
Ross and MacNeel expressed excitement over the progress of the initiative, and they hope their support will allow Salk's renowned plant-biology scientists to achieve their audacious goal of solving the climate-change issue.
"I see our support of the Harnessing Plants Initiative as helping to preserve a stable climate for ourselves, our children and future generations," Ross says.