The Office of Equity and Inclusion offers a variety of learning and development opportunities that are designed to promote inclusive excellence at both the individual and organizational level.
Mentoring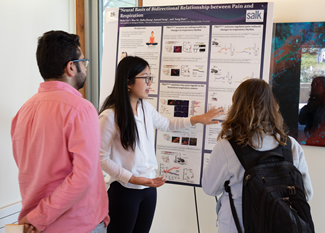 With mentoring proven to be an effective, evidence-based strategy for advancing underrepresented minorities in STEM, our programs aim to connect mentors and mentees with professional development opportunities and an enhanced support network.
At least twice each year, in collaboration with the Postdoctoral Office, we offer Entering Mentoring, an interactive, discussion-based series developed from research conducted at the University of Wisconsin and funded by the NIH. We are gradually expanding this offering to include more scientists at Salk for whom mentoring is a critical aspect of their roles.
In 2021, a pilot program is launching to create mentoring partnerships between our postdoctoral fellows and a wide network of external supporters.
Our office is developing and aims to introduce additional mentoring platforms for staff across the Institute by 2022. Please check back as more information is posted.
Training and Development
The Office of Equity and Inclusion is charged with identifying, evaluating and implementing live, self-paced and on-demand learning opportunities to increase awareness and understanding of topics that lead to positive and productive interactions with those who make our research setting a unique environment for learning and working. We offer small-group workshops on understanding bias, moving from a bystander to an upstander, recognizing and curbing microaggressions, and challenging traditional assumptions in a variety of settings.
Informal Learning
Other personal development opportunities promote interactive learning through discussions of important and challenging topics in today's world through critical dialogue on relevant articles, films and books.