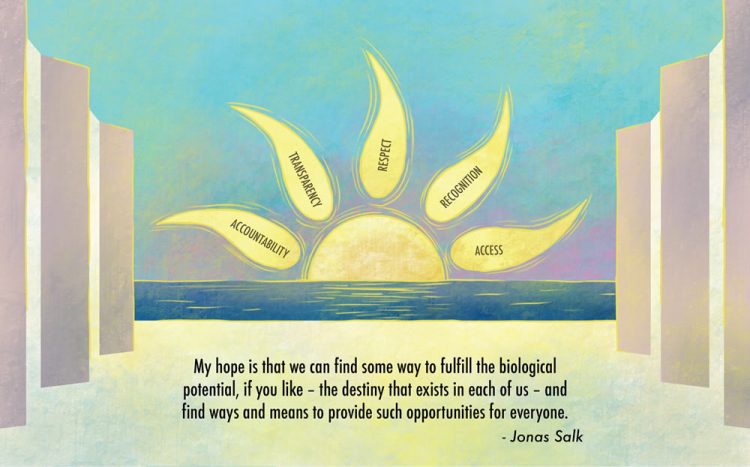 Our Guiding Principles
A core measure of success around diversity, equity, and inclusion rests on the ability to be flexible and dynamic. We will innovate and evolve in alignment with the goals of our scientific community and by continually gaining a deeper understanding of sociocultural dynamics. The principles outlined below have been designed to support everyone who is a part of the Institute's vibrant community.
Accountability Inclusive excellence is possible when we each assume accountability for building and maintaining a campus environment that is connected, welcoming and inclusive. The Diversity, Equity & Inclusion team develops specific performance indicators by which we can measure our successes and opportunities for continued growth.
Transparency A shared understanding of the Institute's challenges will encourage a shared investment in developing optimal solutions. Timely and authentic communication is essential to the success of that effort. We welcome questions and feedback from community members.
Respect Our scientific innovation is predicated on a culture that promotes teamwork, civility and mutual respect for the contributions, opinions and feelings of others. These tenets are essential to maintaining a collaborative working and learning environment.
Recognition Celebrating successes that make Salk more inclusive demonstrates the incorporation of these values into the fabric of our culture.
Access A key component of Salk's rich history is the Institute's commitment to making science accessible. We aim to honor this legacy through continual engagement and active outreach to the community; we support the creation of sustainable pipelines that celebrate and further diversity and a focus on mentoring and professional development.