Staff Scientist
Clayton Foundation Laboratories for Peptide Biology
Peter Gray, Staff Scientist in the Clayton Foundation Laboratories of Peptide Biology, is studying signaling pathways that regulate stem cell function and tumor growth with the aim of developing new anti-cancer therapies.
My research currently focuses on studying Cripto, a GPI-anchored/secreted oncoprotein that controls normal stem cell function and tissue homeostasis by regulating several developmental signaling pathways including TGF-beta and Src/MAPK/PI3K. Cripto is highly expressed in human tumors and promotes tumor cell proliferation, migration, invasion, angiogenesis and EMT. We made the unexpected discovery that Cripto forms a cell surface complex with Glucose Regulated Protein 78 kDa (GRP78), an HSP70 family member that coordinates the unfolded protein response in the ER. GRP78 is best known for its roles as an ER chaperone but it also localizes to the plasma membrane, especially in stem cells and tumor cells. We demonstrated that Cripto binding to cell surface GRP78 is required for Cripto signaling via both TGF-beta and Src/MAPK/PI3K pathways. More recently we discovered that Cripto/GRP78 signaling maintains fetal and adult mammary stem cells suggesting that this pathway similarly regulates other stem cell types and that it may promote an aggressive, undifferentiated phenotype in breast and other human cancers. We are currently attempting to elucidate the molecular mechanisms of Cripto/GRP78 complex formation and signaling and we are also testing if Cripto and GRP78 function cooperatively to promote tumor growth and metastasis in mice. In addition, we are developing reagents including antibodies, peptides and small molecules designed to specifically disrupt the Cripto/GRP78 interface. These reagents are predicted to block oncogenic Cripto function and may lead to future therapies for the treatment of human cancers.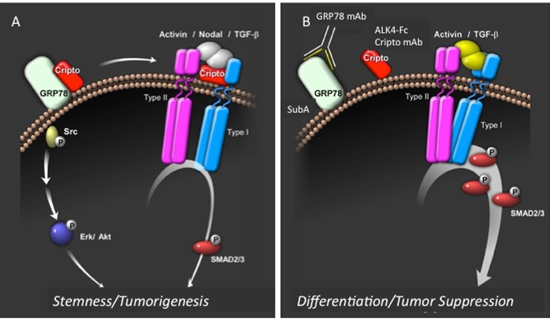 Disrupting the cell surface Cripto/GRP78 complex blocks Cripto signaling.
A) Cripto promotes stemness and tumorigenesis by binding cell surface GRP78 and signaling via Activin/Nodal/TGF-beta and Src/Erk/Akt pathways.
B) Disrupting the cell surface Cripto/GRP78 complex blocks Cripto signaling and therefore promotes differentiation and tumor suppression. SubA, GRP78-specific protease; anti-GRP78, neutralizing Ab that blocks Cripto/GRP78 binding; ALK4-Fc, binds soluble Cripto and blocks soluble Cripto signaling via GRP78.
---